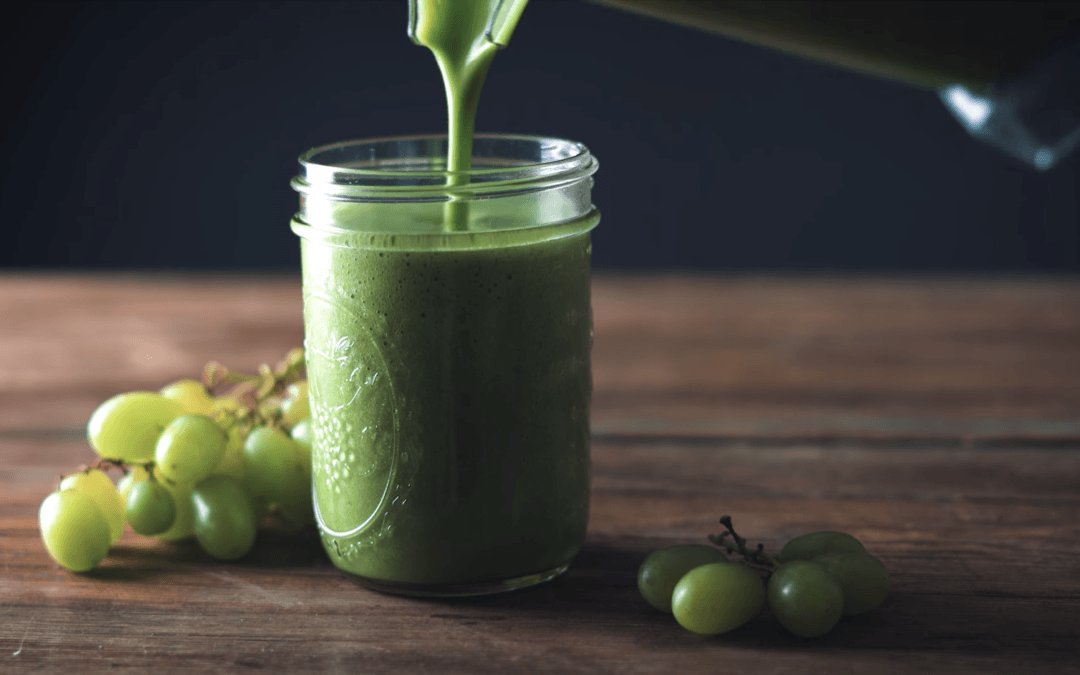 Is Vitamix worth it? In this review, I'll describe the pros and cons of this popular blender and my experience with it. To start with, I was considering getting a Vitamix blender for several years already, but I was reluctant because the price seemed rather over the top to me. I had a common blender for my soups and sauces, and a Nutribullet for making my smoothies.
The Nutribullet could blend my smoothies pretty well, so I didn't really understand what the fuss about Vitamix was all about. However, when a close friend of mine got her Vitamix and I was able to witness directly what this machine was capable of, I finally made my decision, started putting some cash aside each month, and eventually purchased the model 3500 from the Ascent series. There are many different models and sizes of the Vitamix blenders, so it's a good idea to take your time and select your favourite. For me, the A3500 ticks all the boxes and shall explain why in this review.
Disclosure: As an Amazon associate I earn from qualifying purchases. This means that if you make a purchase through my links, I will earn a small commission at no extra cost to you. The full disclosure can be accessed here. Thank you for your support!
Much More Than Just Smoothies
Compared to the standard blenders, I was highly impressed by the spectrum of possibilities that this blender offers.
Unlike Nutribullet, you can throw huge frozen chunks of fruit or veggies (or plenty of ice cubes made of water, lemon or lime juice) into your Vitamix and the blades will pulverize it within seconds, releasing the flavor as well as making the drink nice and chilled.
The Vitamix completely won me over when I made my first Tahini, which tasted even better than the one from the health food shop. The only ingredients I needed were lightly toasted sesame seeds, (not even oil), and the result was a real, fragrant and tasty tahini. The essential ingredient for homemade hummus and halva!
My first Tahini made in Vitamix
Another great surprise was ice cream, which Vitamix can make in about 30 – 50 seconds. I made a really nice vegan chocolate ice cream, and my – very picky! – husband said it tasted better than his favourite Booja Booja vegan ice cream.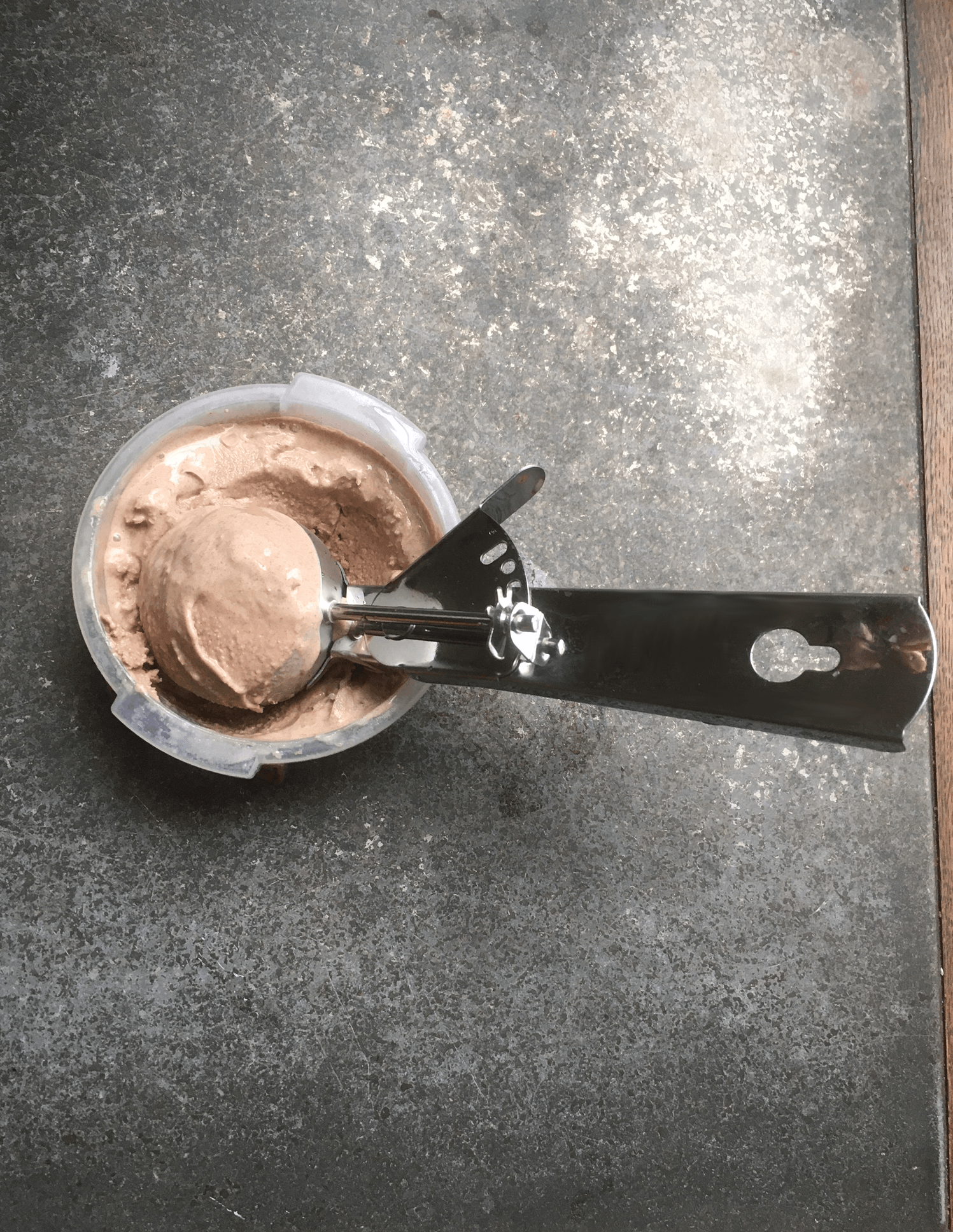 Straight after the chocolate ice cream, I made frozen yogurt (with greek yogurt and frozen pineapple pieces) sweetened with agave syrup. The memories of me sitting at my favourite frozen yogurteria came back instantly, and what I spooned out of my Vitamix tasted at least as good, of not better, as the high-street treat.
Freshly made frozen yogurt
Superfood Breakfast
And now to actual smoothies: My husband and I are completely addicted to our morning elixirs of life. The best thing is that you can smuggle the healthiest of ingredients into a really tasty smoothie.  Spinach, turmeric, spirulina, Chia seeds, cashews, even flaxseed oil…basically all the superfoods you can think of, which you probably wouldn't fancy consuming on their own.
You can throw frozen chunks of fruit or vegetables or several cups of ice-cubes into the Vitamix jug without worrying about straining the machine; the strong blades will smash it within seconds. If you do the same with standard blenders, you may end up with a chunky drink, not the cloud-like, velvety smoothie that you get from Vitamix. Plus, you might damage the regular blenders by forcing them to process the hard parts, such as ice cubes or frozen fruit or veg.
Our morning green supersmoothie – before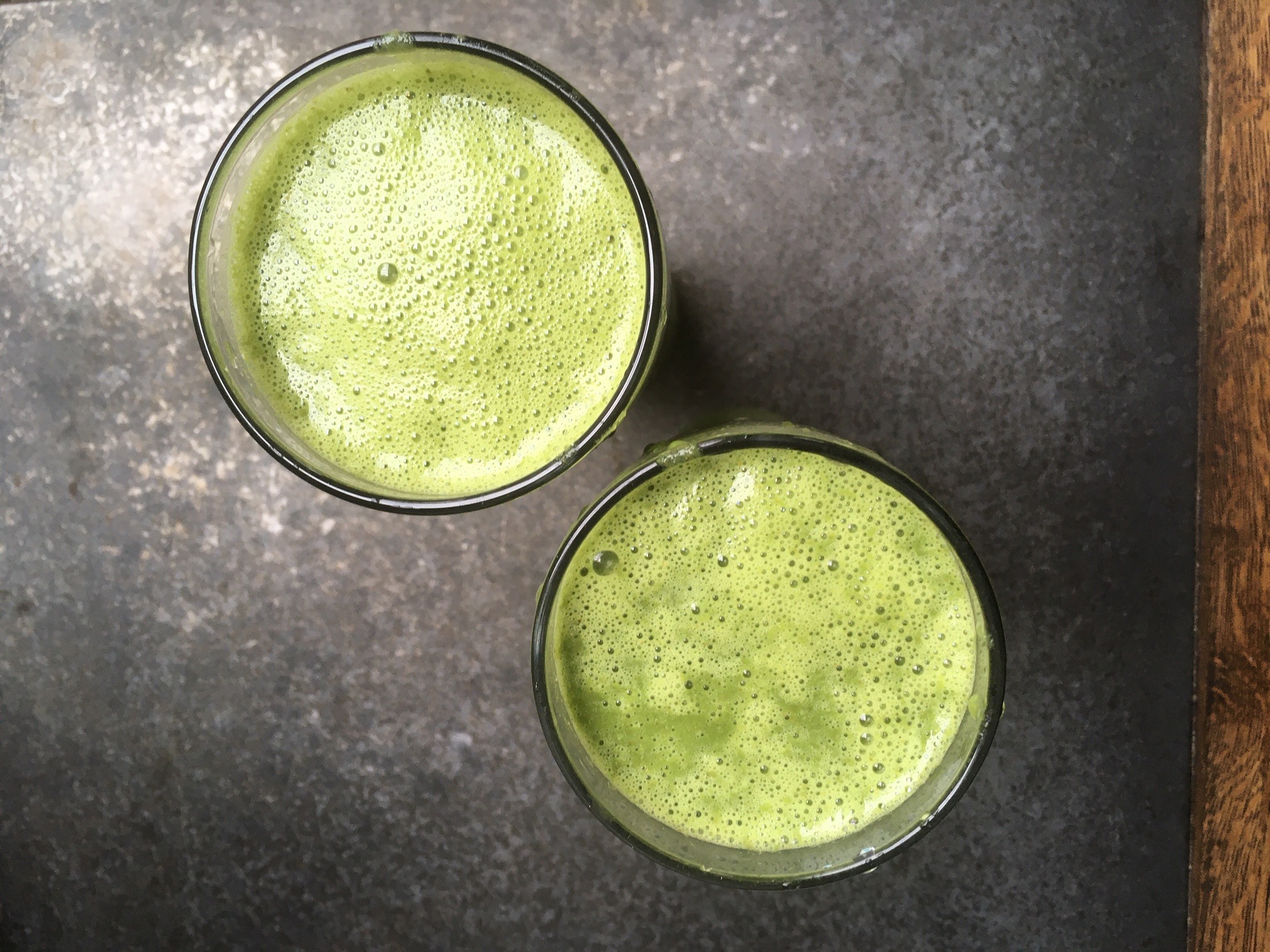 Our morning green supersmoothie – after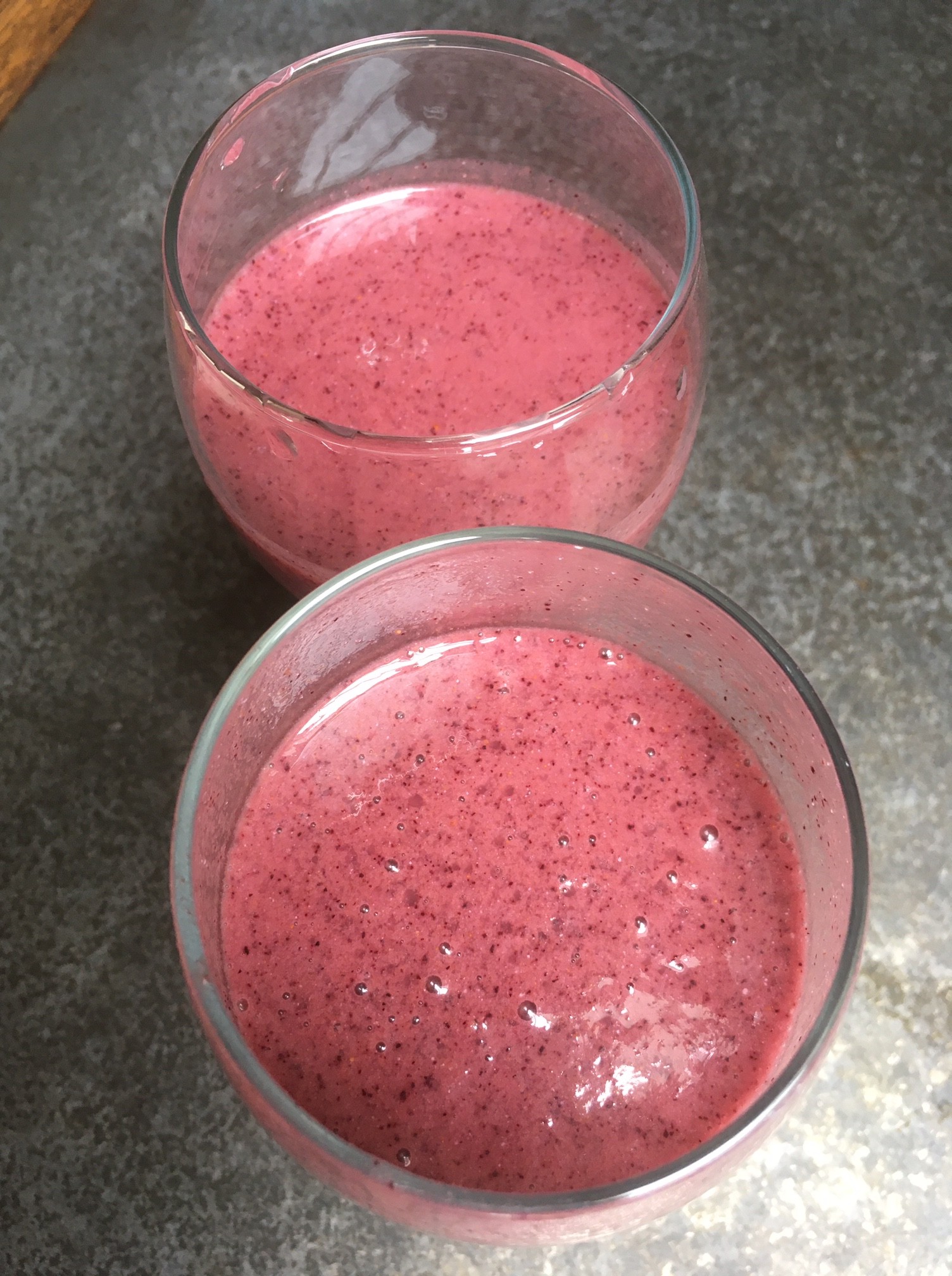 A heavenly blueberry smoothie
Delicious drinks like this will help you kick start the day and keep you energized and in a good mood for much longer than a coffee or tea would do. Plus, it's so much more nutritious, healthier option than caffeinated drinks. I can't deny my love of good quality coffee, but after learning what happens in your body after ingesting caffeine (see my article The Physiological Effects of Caffeine) I now treat myself to coffee only once in a while. I also stopped craving coffee since starting a regular meditation practice, which I've written about in the post The Physical and Psychological Benefits of Meditation)
How About Nutribullet?
A friend asked me why I got Vitamix when I already have the much cheaper Nutribullet to make my smoothies. Let's make it clear – I really like Nutribullet and bought one in 2013. It does make great smoothies. I recollect with fondness my morning journeys to college on the London bus, while slowly sipping my freshly made Nutribullet smoothies which energized and kept me well focused in my class, and kept me going for hours.
However, unlike Vitamix, Nutribullet doesn't crush ice cubes or whole chunks of frozen food. It certainly cannot create ready-to-serve ice cream or steaming-hot soup. It can mill nuts, but it cannot create nut butters or crate a creamy consistency out of seeds. I realised that after making my first (and I must say, amazing) tahini in the Vitamix.
You'll Start Eating Healthier Spontaneously
The amount of stuff that you can make with Vitamix is mind-blowing. You can base your whole diet on it, and you'll naturally start eating in a much healthier way, while genuinely enjoying your creations. You can make nut butters (e.g. peanut, cashew, almond butter), guacamole, tahini, hummus, baby food, all sorts of sauces, bread and cake dough, and soups.
Vitamix can actually make a steaming-hot soup in about 6 minutes thanks to the high-power friction of the blades. I haven't tried this feature yet, because I prefer chunkier soups made with a hand blender, and somehow I don't want to become too lazy with my cooking, but if I'm ever stuck for time, I know the option is there.
You can also use the Vitamix for chopping. Juts drop the food (e.g. onion, garlic) through the small hole at the top of the container into already spinning blades. The blender can mill seeds and grind spices as well.
Hundreds of Recipes
With your Vitamix, you'll get a free recipe book, and you can also follow plenty of great recipes on the Vitamix website. Youtube is also full of creative ideas. Discovering all the recipe possibilities is enjoyable and exciting, and I recommend creating a folder with your favourite recipes, because you are very likely to use them frequently.
Here the recipe categories listed on the Vitamix website: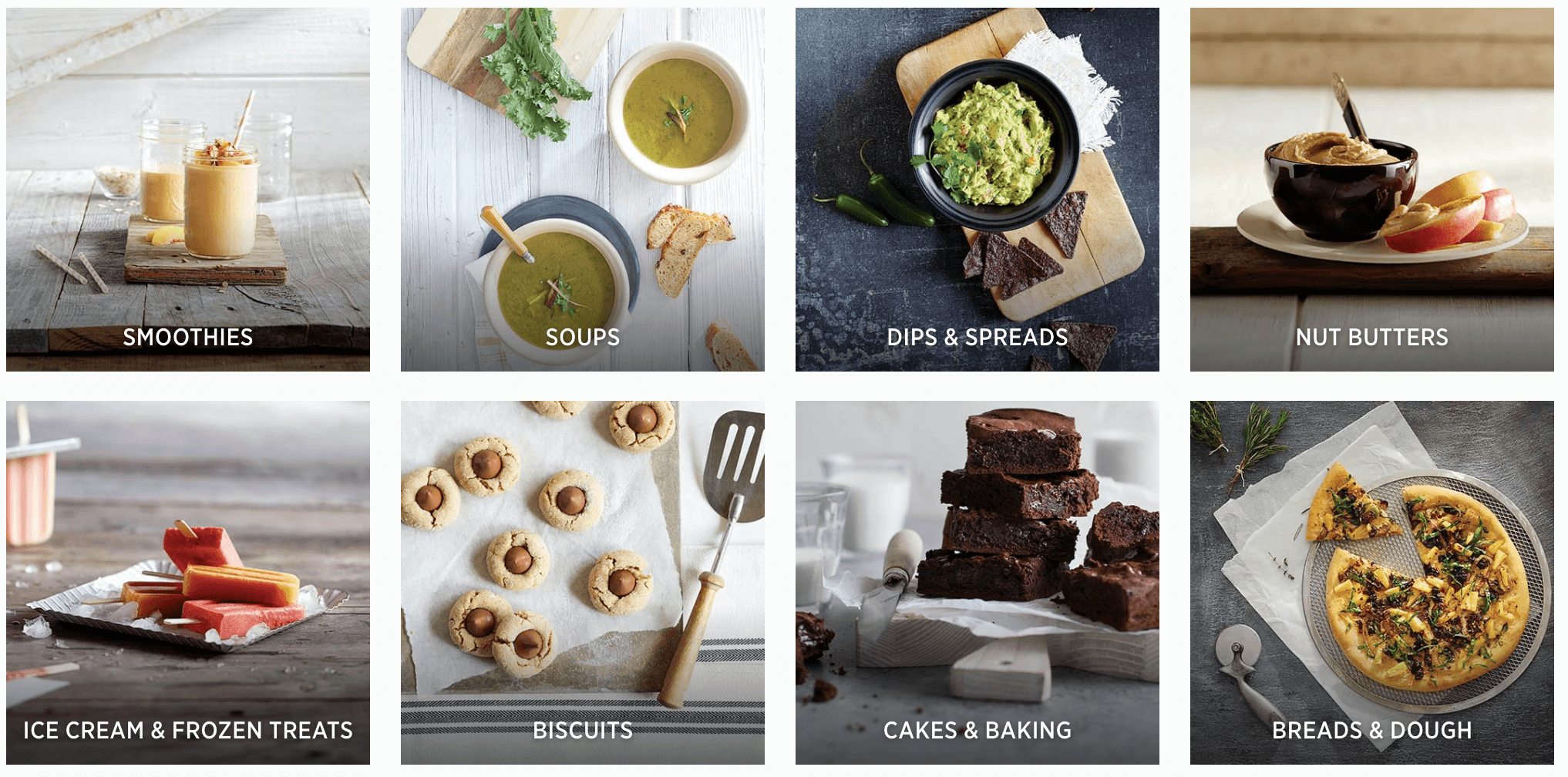 As an example, I've selected two delicious smoothie recipes from the Vitamix website.
Important warning: This recipe has been designed for a high-performance blender, such as the Vitamix A3500. If you are using a non-Vitamix blender, please check carefully whether your blender is powerful enough to process hard, frozen parts, otherwise you may damage your device. For example, you cannot use these recipes in a Nutribullet.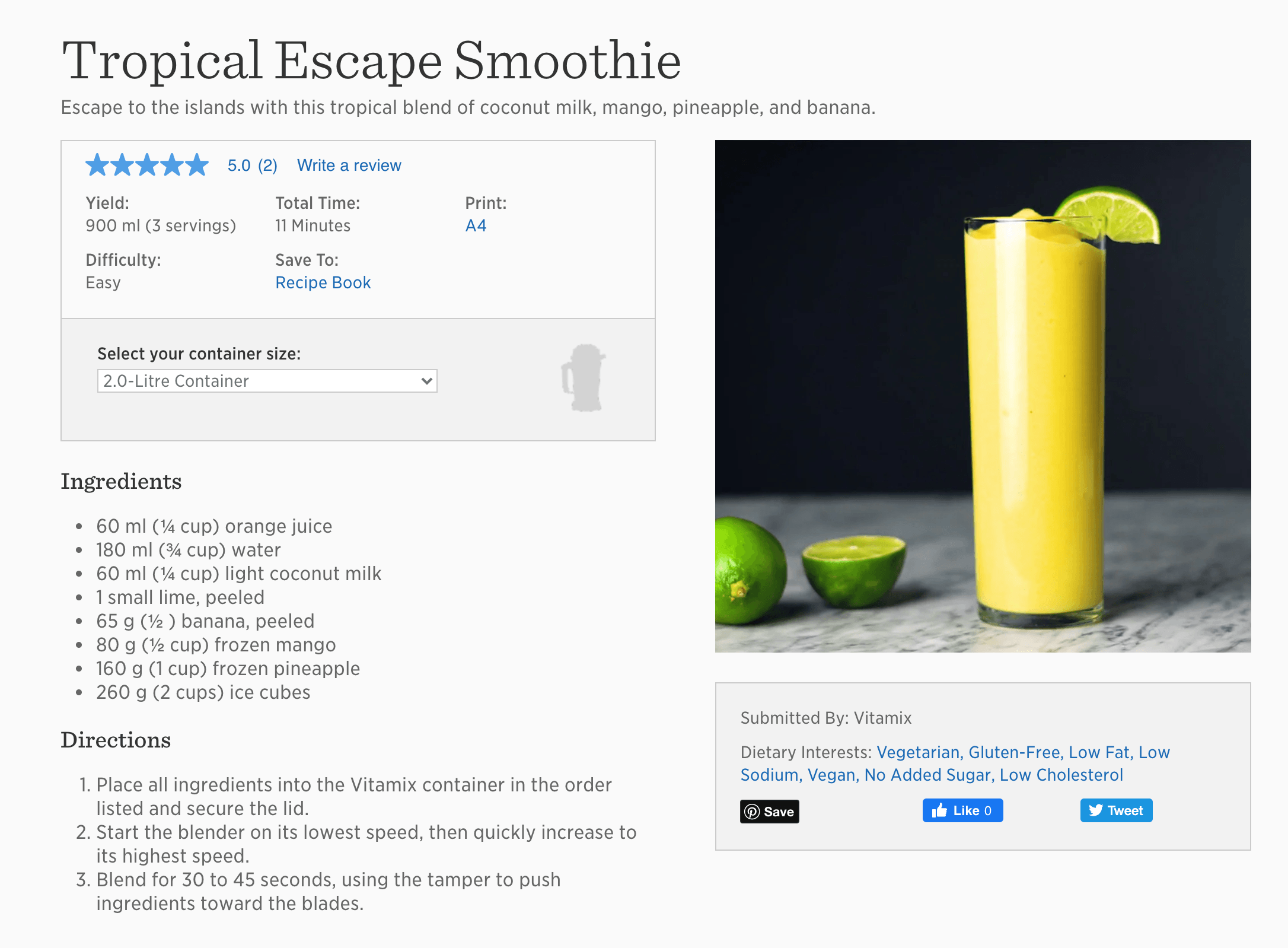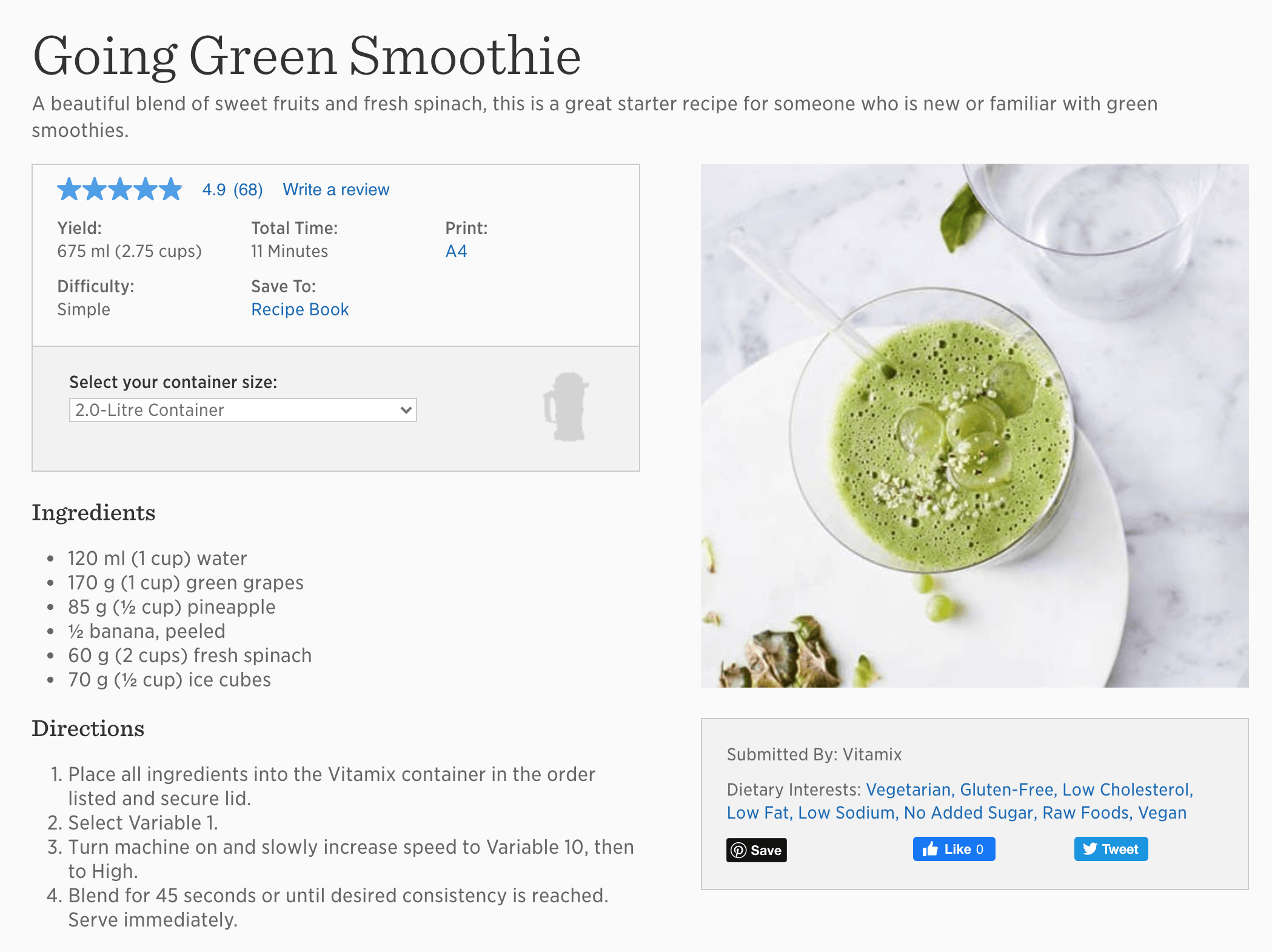 Regarding the 'Directions' section in these two recipes, (after 'Ingredients') please note that with the model A3500 you won't have to increase the speed manualy (unless you wish to.) You can use the smoothie preset – i.e. simply press one button and everything will be done for you, including the speed increase. Also, the blender will stop on its own after 50 seconds, so you can go away from the blender and do something else.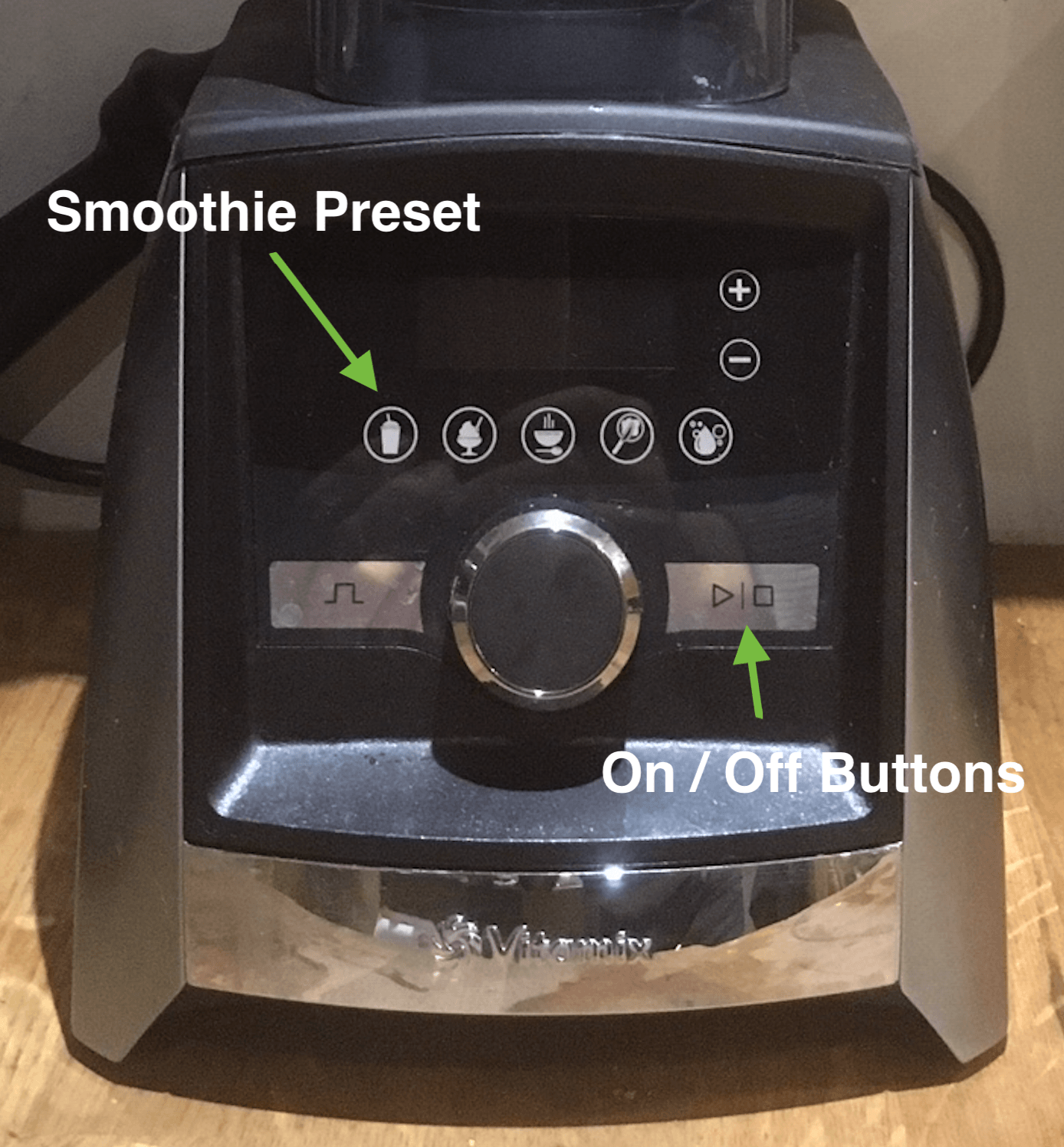 The Vitamix App – Even More Recipes and Presets
As this was not enough, you can explore over 600 recipes on the Vitamix app that you can download for free. Below is a screenshot from my mobile, presenting the app. Using your mobile or iPad, you can pair the app with your Vitamix blender via Bluetooth.
Apart from a crazy amount of recipes, the app will also give you 17 preset programs. The Vitamix Ascent 3500 comes with five preset programs for smoothies, hot soups, frozen desserts, spreads, and self-cleaning, and the app will add additional ones, such as dry chopping, nut butters, baby food, spice grinding, and more. You may just well open your own 'conscious food' chain!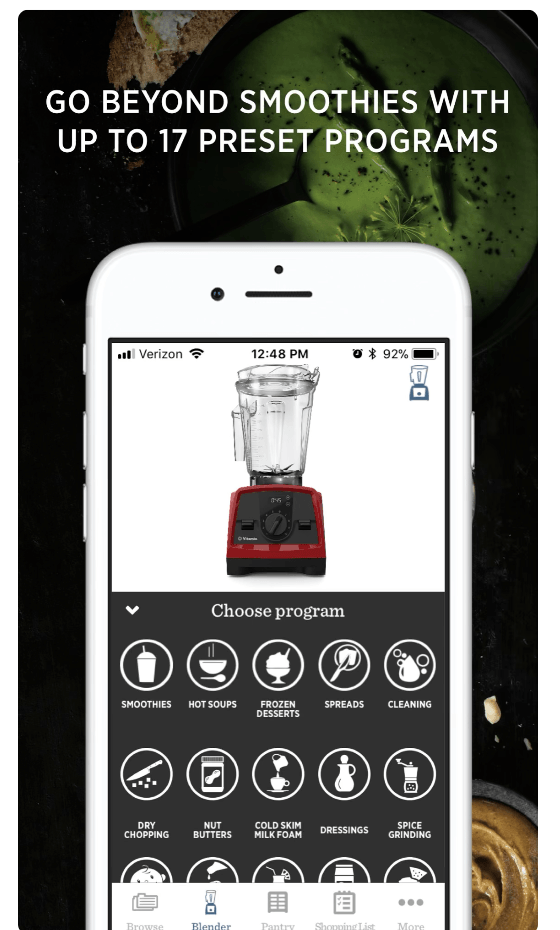 Below are some examples of the recipes from the Vitamix app. This shows that the blender is certainly not limited to just smoothies. Now you can make your own salsa, guacamole, hummus, all sorts of sauces, dressings, and marinades, jams…you may be surprised by what you're suddenly capable of!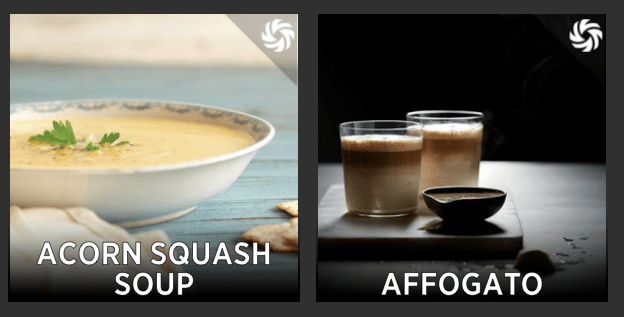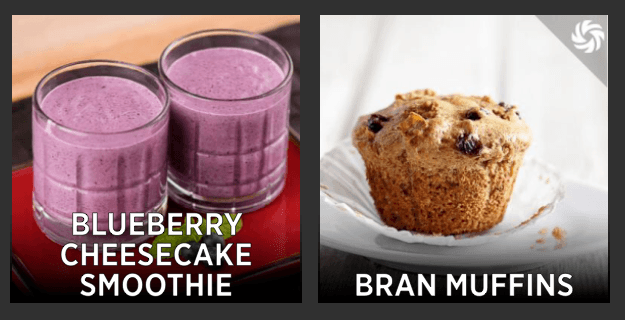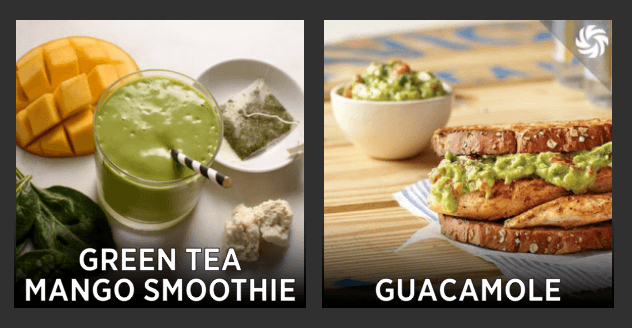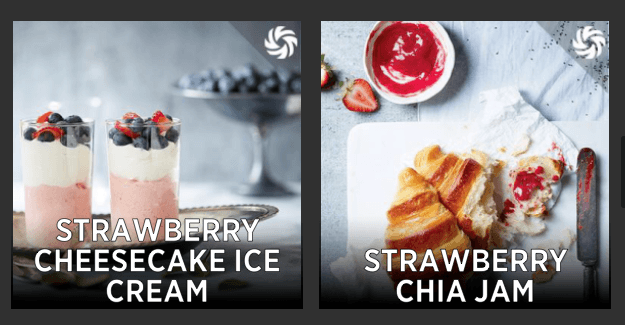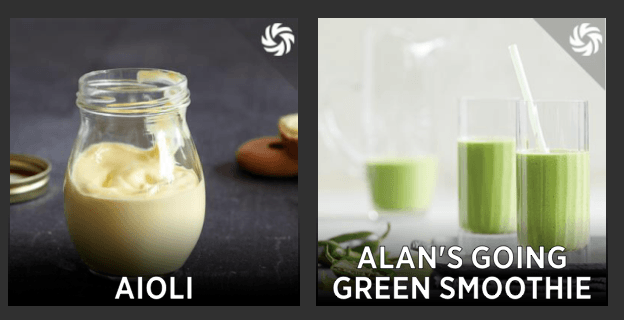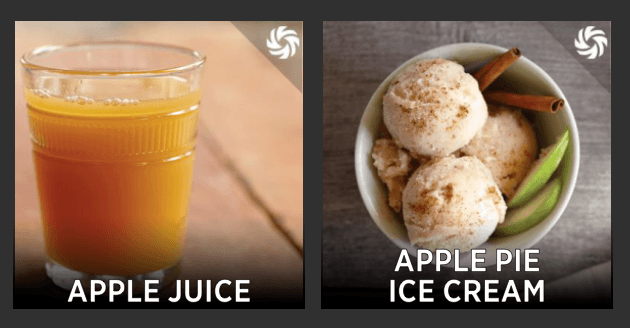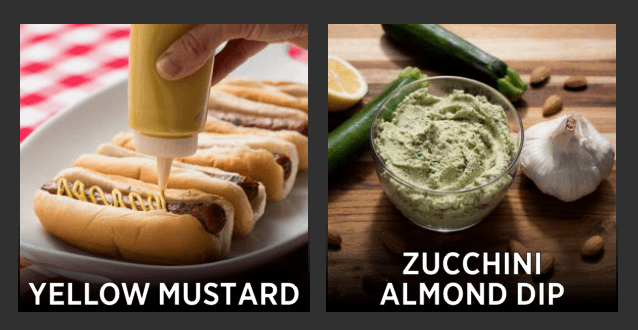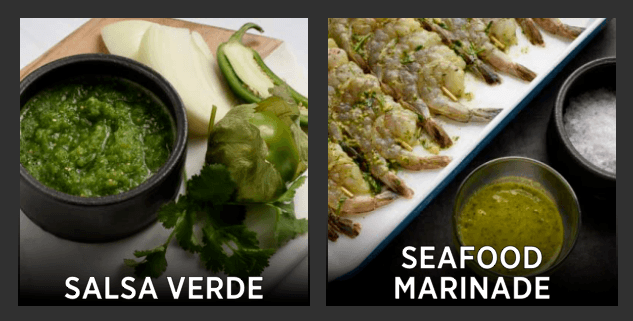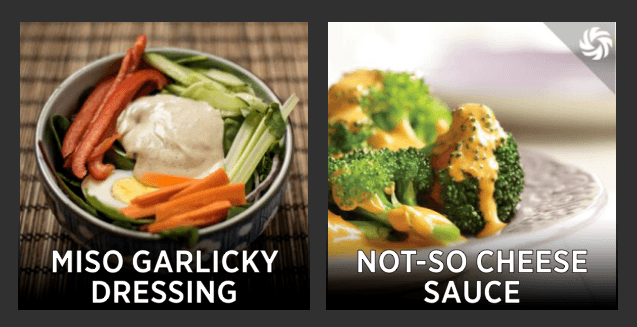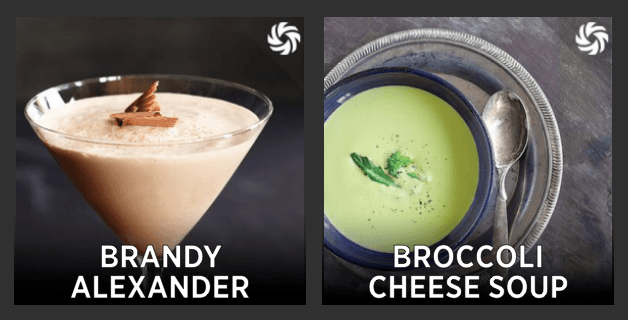 A Closer Look at the Features
After all the recipe madness, let's have a closer look at the features, to understand what makes this machine so powerful and how to actually use it.
If you want, you can watch a short presentation video by Vitamix first:
64 Ounce (2 Litres) Container
You'll get a generous size container made of BPA-free plastic. The container feels very sturdy and safe. The lid clips onto the container. If you happen not to close the lid properly, the smart machine won't start, and will show a 'no entry' icon in the top left corner of the display. This is a very useful safety feature, which could prevent splashing your dark green smoothie all over your kitchen walls.
1380 Watt 2.2 Hp Motor and Powerful Blades
The power of the motor, together with specially designed blades that don't just cut through the food but smash it/pulverise it, makes it capable to crush even large chunks of fully frozen food. The motor power is also the reason why the machine gets quite loud at the high speed. Fortunately, you don't usually have to use the high speed for more than 30 – 50 seconds.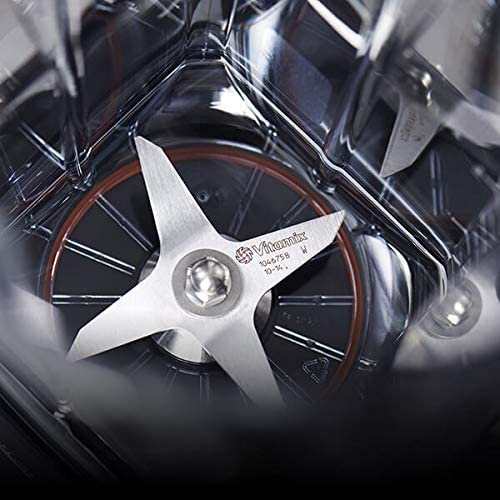 Self-Detect Technology
The blender won't start unless the container is placed correctly and the lid is fully closed, which is a great safety feature, helping to prevent disasters of the kind 'your flat being freshly painted in dark green by your morning smoothie'. The blender will also recognise what size of the jug is sitting on it, so if you have purchased a tiny jug for grinding spices  or making very small amount of baby food in it, the machine won't start (as a safety precaution) if you select an 8-minute pre-set for making hot soups, for example.
10 Speed Dial
If you don't want to use the pre-set buttons, you can use the manual speed dial. If you read in one of the recipes 'Select Variable 1', this refers to the speed number on the manual dial. The dial has 10 speeds. You usually start blending on a low speed and then turn the know to its higher speed (10) until you reach the desired blending result.
Touch Controls
The touch controls make the machine look sleek and also easy to clean. The only downside of this, I think, is that it's not suitable for the visually impaired. (Fortunately, there are other Vitamix models with more manual controls available)
Tamper
The tamper is used for pushing ingredients towards the blades. You usually use it when making ice cream, which requires only about 30n seconds of blending on high power, (if you left it blend longer it would start melting) and within those 30-ish seconds you push the ice and other frozen bits towards to blades. You can also use it to make nut butters or tahini – you'll help to push all the nuts or seeds closer to the blades.
5 Blending Presets
This is a v very useful feature if, especially at the start you are not sure how long and with what intensity to blend certain things, e.g. ice-creams. In the case of ice-creams the preset is especially helpful, because if you use the manual controls, you may overblend the icecream, which will result in melting (due to the heat caused by the friction of the blades) and you'll end up with a smoothie instead.
But even if you use a preset that has specific timing preprogrammed, you can turn the machine off any time you wish.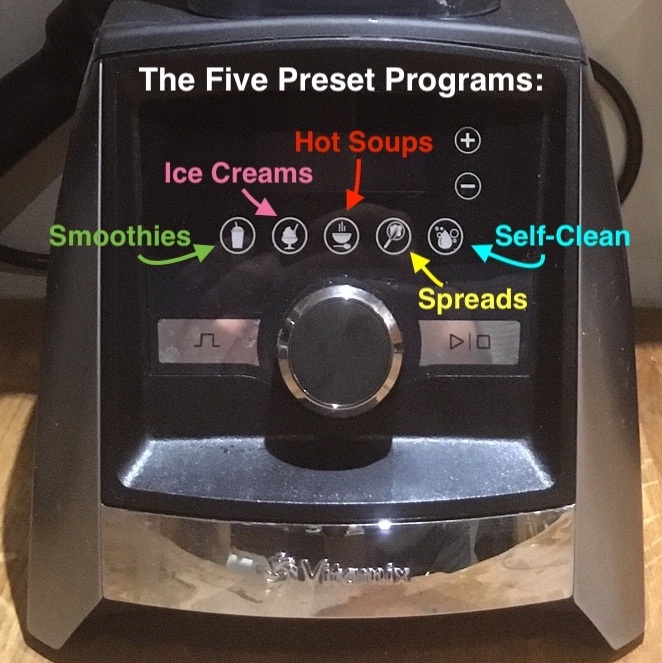 Timer
You can set the timer to a required length (through the plus and minus icons) and let Vitamix do its job. It will turn itself off automatically after the required length of time. This is one of my favourite features of this blender – the fact that I don't have to stand next to it amidst all the noise, but do other things or even leave the kitchen if I wish.
The Pulse Function
The pulse function is very useful if you don't want to over-blend your food. If you press the pulse button shortly, it will generate a quick burst, which is ideal for keeping the right consistency of the food. I have created a short demonstration video where you can see me using the pulse function to grind coffee beans.
10 Year Warranty and 30 Days Money Back Guarantee
The warranty provides you with peace of mind for 10 full years, and the 30-day guarantee gives you enough time to try and test the blender (and probably become a Vitamix addict).
Bluetooth Connectivity
The Vitamix Ascent 3500 is connectible via Bluetooth to your mobile or tablet, so you can download the Vitamix app with 17 presets and over 600 recipes.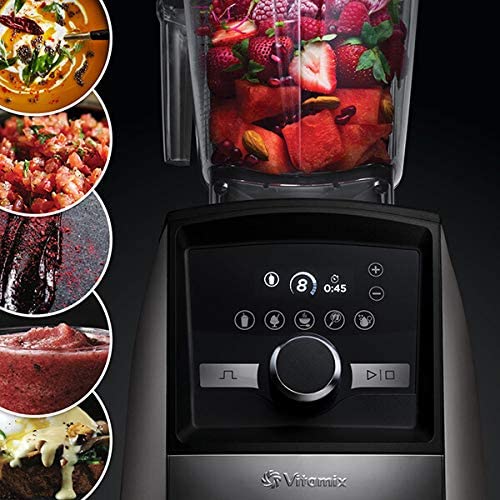 Sneak in All Sorts of Healthy Supplements
I also consume really healthy supplements that I would previously find quite unpleasant to eat on their own, such as Flax Seed oil, full of Omega 3 fatty acids, which are great for your cardiovascular health as well as skin and hair! Add a tablespoon of the oil into your green smoothie and you will never notice it. You'll only start receiving compliments on your shiny hair.
My smoothies also mercifully hide powdered superfoods I had always wanted to eat but couldn't bear it: Spirulina, turmeric, lucuma, maca…all get blended in the smoothie, and you wonder why you're feeling great all morning juts after one glass of tasty green smoothie.
Imagine what all this could do to your health, especially your children's health. A lot of kids hate greens, but all kids love getting involved in creating yummy treats!
Imagine treating your friends and family to a freshly made, delicious ice-cream, impress them with home-made almond/peanut/cashew butter, and never again have to buy baby food from a supermarket?
More Fruit & Veg in One Go Than in a Whole Day
For me personally, the fact that since getting the Vitamix3500i I started eating much healthier, (and profoundly enjoying it), which is leaving me feeling more energized and happier, completely justifies the price. Through my morning green smoothie only, I now consume more vegetables and fruit in one go than I used to in an entire day!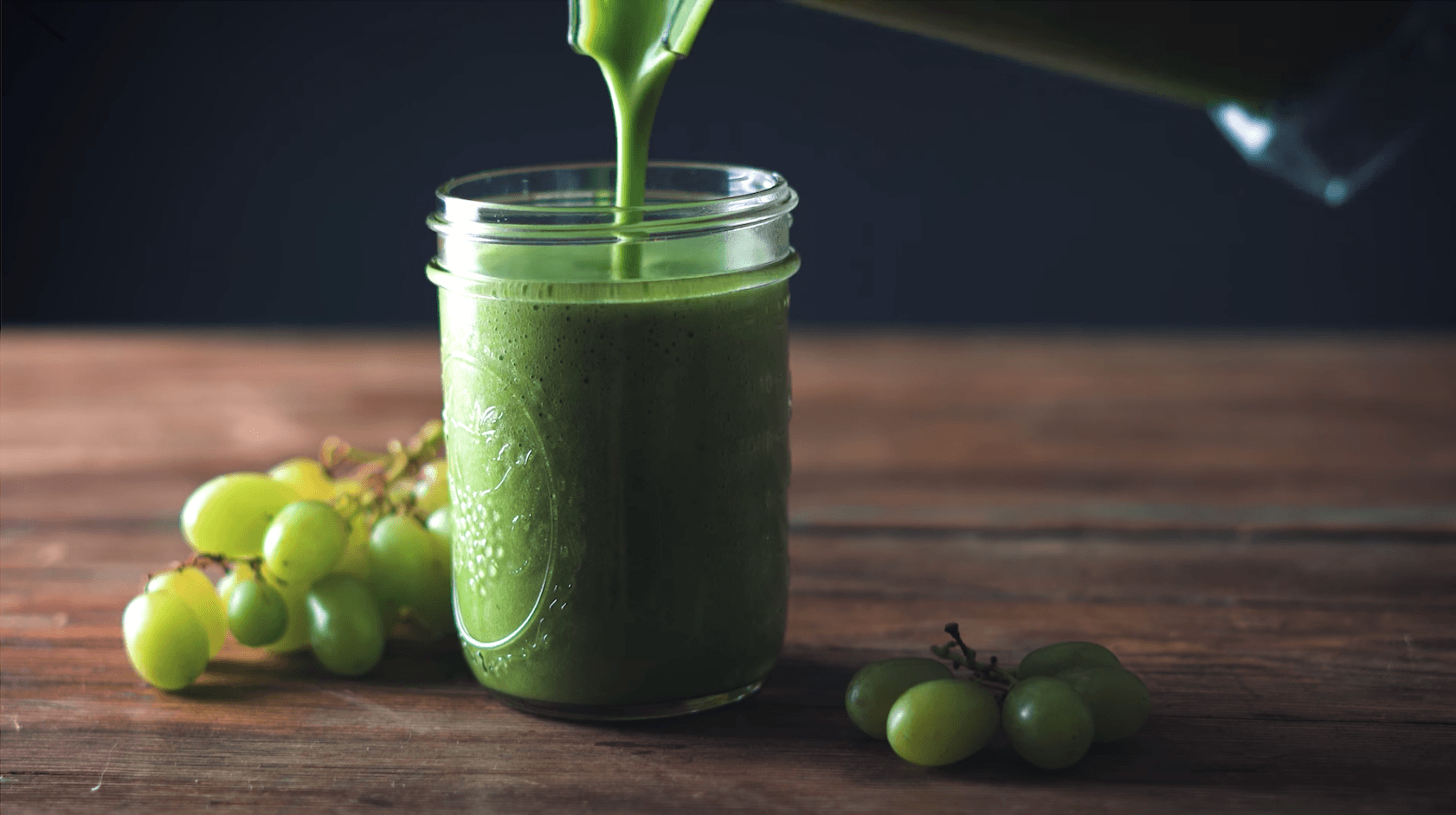 Your Investment Will Pay Off
The purchase price will pay off eventually – you won't need to buy expensive smoothies from the supermarket (which are mostly apple juice anyway) or even more expensive smoothies from the juice bar. Also, you won't waste as much food as you would previously; if you can't consume all your fresh fruit and veggies, just freeze it for a delectable smoothie or ice-cream.
And, above all, your investment will also pay off in a much more important way – through your improved health, better moods, improved focus, and a happier frame of mind thanks to all the nutrients fuelling you up.
In the same way as you'd want to feed your baby the safest, healthiest baby food, give your pet the optimal nourishment, your car the most appropriate fuel, your body and mind equally deserve the best nutrition, so you can show up in the world at your best. You will have more energy and feel better overall, so you'll have more to offer to the ones near you.
People will be positively affected by your good energy. If you sometimes think you have nothing to offer, then try to remember the time when your spirits were simply lifted by the presence of some really nice person. Someone who felt happy inside and shared that lovely energy with you. You can now be this person.
The Vitamix A3500 in my kitchen
Well Worth the Wait
Do I regret not getting my Vitamix much earlier? No, because only now, after years of using other blenders, I can truly appreciate everything it can do. I still have a fresh memory of all the bitty, lumpy, crunchy smoothies that my old blenders couldn't fully process, and now I relish my super smooth, silky Vitamix smoothies, (plus sauces, dips, and nut butters) ten times as much.
Also, had I purchased one a few years ago, I would have most likely got an older model, and miss out on the super-sleek looking, space-saving, yet still generously-sized Vitamix Ascent 3500.
Conclusion
So back to my initial question: Yes, for me, Vitamix 3500 has been completely worth it. I am enjoying my food twice as much. I'm much more creative in the kitchen but saving a lot of time at the same time. I have started eating much more healthily without even realizing it. I do encourage you to try this amazing blender out, and if for any reason you don't like it, simply return it within 30 days. To your great and long-lasting health!
Share Your Thoughts
I would love to hear your thoughts or share your experiences with Vitamix or other blenders. Just leave a comment below and I'll get back in touch with you as soon as I finish my frozen yogurt!