Several years ago, while suffering from lower back pain, I was recommended by a physiotherapist to get a lower back support belt. Maintaining a correct posture is crucial for preventing back pain, but it is not easy to always remember to stand or sit straight. Fortunately, there are devices such as back support belts that can provide considerable relief for the back, and alleviate pain caused by stress or incorrect posture. In this post, I'll be reviewing the Nada Chair back support.
Affiliate Disclosure: As an Amazon Associate I earn from qualifying purchases. If you make a purchase through my links, I will earn a small commission at no extra cost to you. The full disclosure can be accessed here. Thank you for your support!
Product: Nada Chair Back-Up
Available from: Amazon
Main Benefits: Pain Relief/Relaxation/Correct Posture
Price: $49.00 
Dimensions: 11.7 x 6.9 x 2.5 inches
My Rating: 8.8 out of 10
Nada Chair Back-Up: A Simple Device for Back Pain Relief
There was a period when I suffered from quite intensive back pain – mainly in the gigging season when I used to carry my keyboard and amplifier around frequently. The pain would often last for days.
A discovery of that year was an inconspicuous, but surprisingly effective  device called 'Back-Up', made by a company 'Nada Chair', who, as I later found out, holds the World Chiropractic Alliance's endorsement, and, as I have found out, quite rightly!
This deceptively simple accessory provides great support for the lower back and eases the general strain on the back. It allows you to sit comfortably for a long time while helping you maintain the correct posture.
Description
The Nada-Chair is essentially a lower-back support resembling a flat padded pillow. The back support is connected with two straps that you place around (or just under) your knees. The length of the straps is adjustable; the shorter you make the straps, the more tension you'll get. The area that gets hooked around your knees is also padded for greater comfort.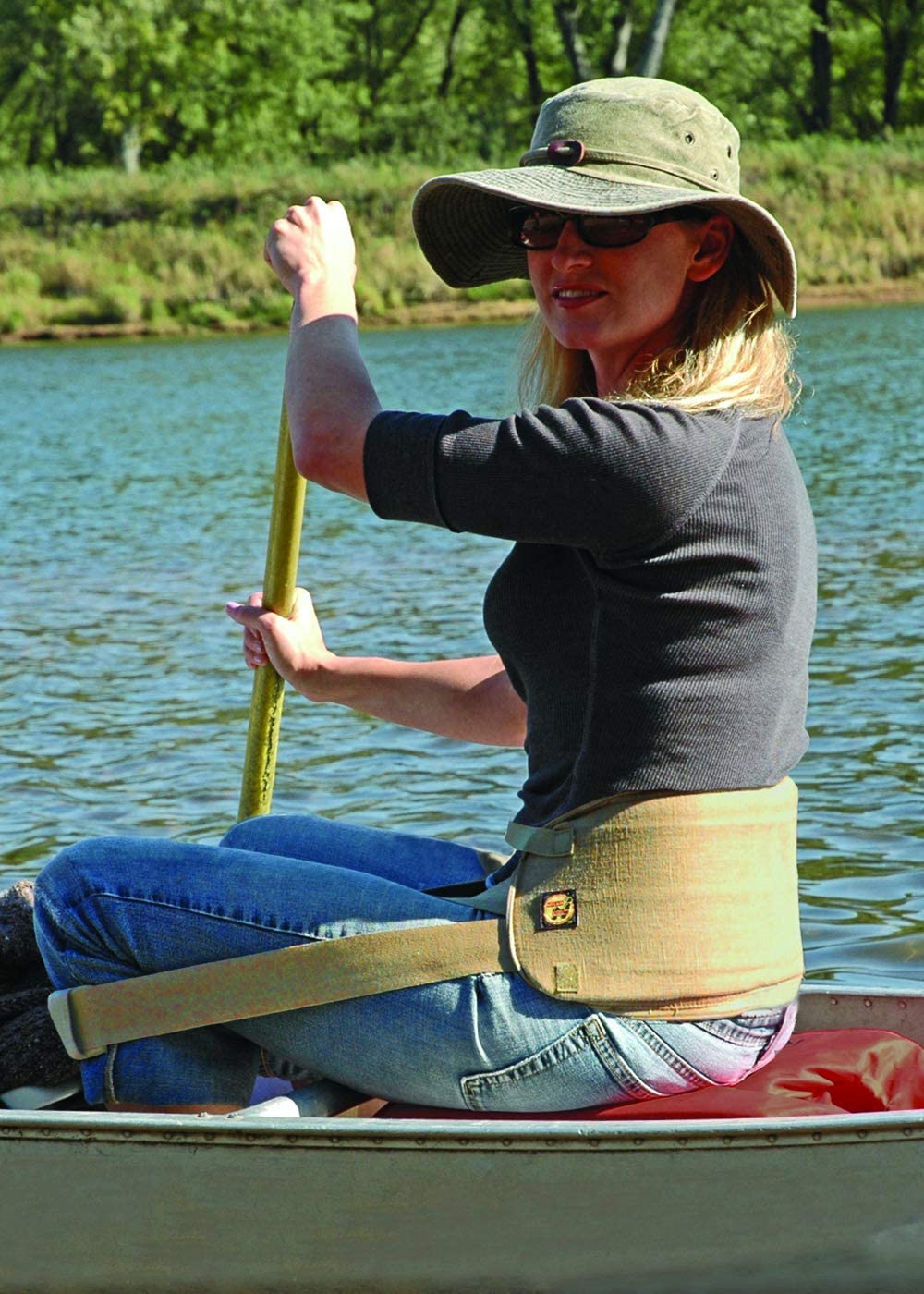 A Wide Range of Users
It is a highly effective device for anyone with chronic back pain or strained back muscles, pregnant women, people who spend long hours sitting or driving. It has even been used by NASA astronauts because of its ability to decrease back pain caused by microgravity. 
Practical and Portable
I remember carrying it everywhere because it's so practical. It folds into a pouch, so it's easily portable and fits into a small shoulder bag. I would even take it with me when visiting friends and use it while chilling on the sofa. Needless to say, it quickly became a hit amongst all the back-pain sufferers. And in my case, after about a week of daily use, my back pain subsided.
How Does Nada Chair Work – And Why is it called a 'Chair'?
The Nada-Chair is known as the 'chair that you wear'; Whenever you move forward or backward while sitting, the Nada-Chair will follow your body. This means that even if you move, the Nada-Chair will keep supporting your lower back in a firm but adjustable way.
In a way, the Nada-Chair acts like an extra muscle that never gets tired. While you are wearing the device, your knees (with the strap around them) will be stabilizing the pelvis. The stabilized pelvis will become a stable foundation on which your spine can rest effortlessly, with its natural curves restored.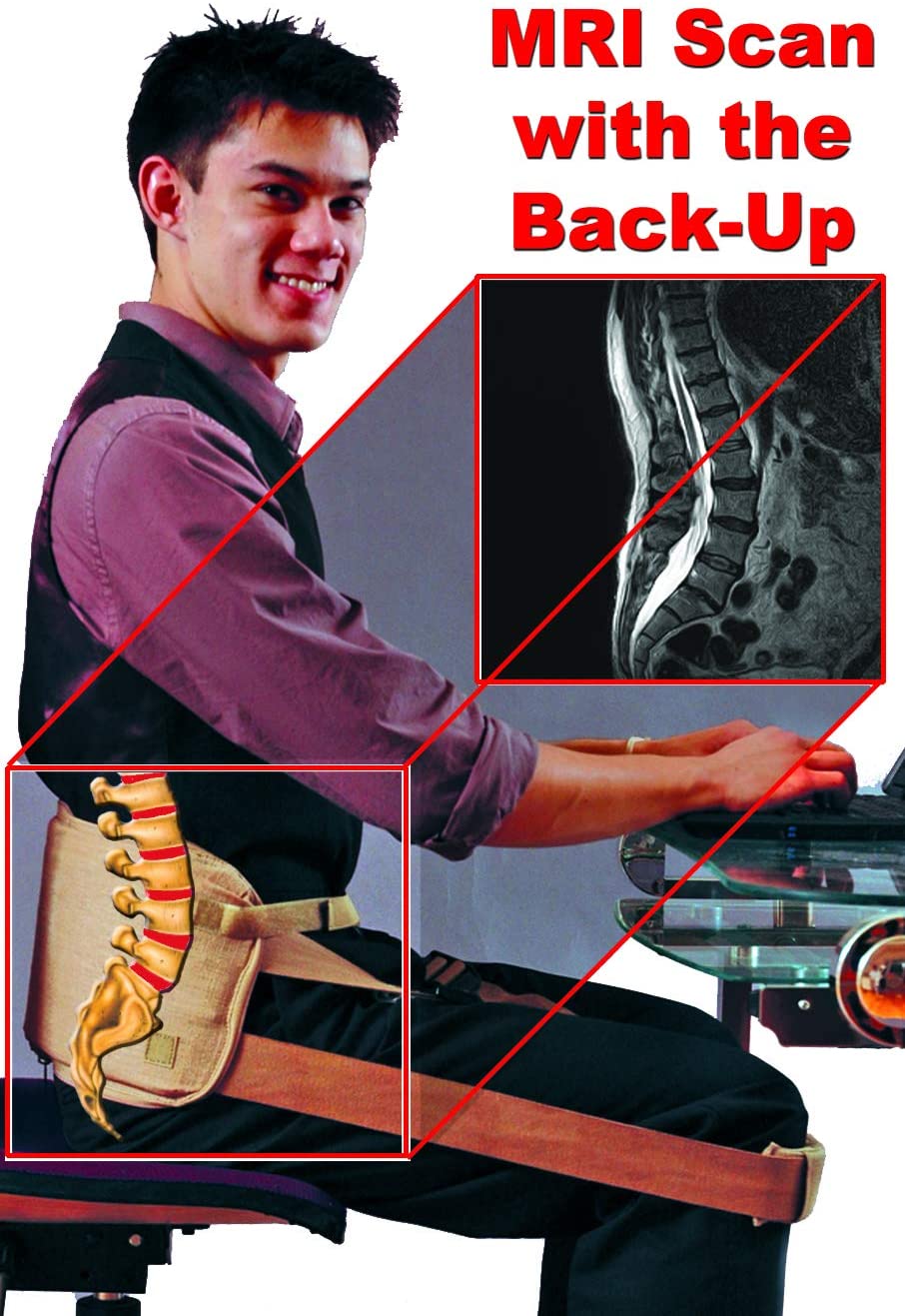 What Others Have Said About Nada Chair
Here are a few reviews from a selection of Amazon customers who are happy with the product. One of them showed it to his/her chiropractor who is now recommending it to his patients. A user called Garland rightly recommends taking some time with adjusting the Nada Chair correctly so it doesn't become uncomfortable. (There's a video further down with detailed instructions on how to wear it.) 
How to Use Nada Chair Back-Up:
The Nada-Chair is very simple to use. You just strap it around your knees and lower back. This creates stable back support and often provides immediate relief from the pain. And although it is strapped around your lower back, it can reduce pain in both the lower and upper back.
Here is an instructional video from the Nada Chair website:
It's also quite fun wearing it – you can shorten or lengthen the straps as you want, and the more you shorten it, the more you can 'swing' in it!
PROS
Effectiveness
The Nada-Chair is effective and can provide fast back pain relief
Portability
One of the biggest plusses of The Nada-Chair is its portability and light weight. It can be folded into a relatively small pouch that fits into a standard handbag, which makes it very convenient and you may find yourself carrying it with you just about everywhere!
Affordability
The price of the Nada-Chair is, to my mind, very reasonable, provided its proven effectiveness and quality.
CONS
It May Put Stress on the Knees
Although the Nada Chair webiste doesn't say so, I've heard from several sources (including a yoga teacher) that the pressure from wearing the straps for too long may put stress on the knees. As long-term sitting is not healthy anyway, I would keep the strap on for 15-20 minutes maximum, and then take a break or at least stretch the legs.
It Can Take to Learn to Use Properly
It can take some time to find your ideal position in the device and feel comfortable with it.
The Straps Sometimes Twist
The straps sometimes get twisted around the knee support part, which can be annoying.
Conclusion
As a frequent user of Nada-Chair, who has experienced back-pain relief after using it, I do recommend giving Nada-Chair a go.
However, this device may not suit everyone, as it requires a bit of patience when it comes to adjusting the straps and finding a correct, comfortable position. Not wearing it properly may be counterproductive; if your pelvis is not properly supported, you may end up slouching.
It's also a pity that it doesn't come with a complimentary part that would support the upper back at the same time, like, for example, this adjustable upper back brace.
A two-in-one deal would be ideal, I think! Correct posture of shoulders is very important, not the least because of the amount of oxygen we breathe in. A posture can also have a direct effect our mood and self-esteem.
Overall, I'm still a great fan of the Nada-chair as it has helped me many times to ease my back pain. I would mainly recommend it to two groups of people:
1) The ones who spend many hours sitting, either behind a computer, on the plane, or behind a counter, etc.
2) People who experience long-term back strain, like pregnant women or people who often have to carry heavy objects.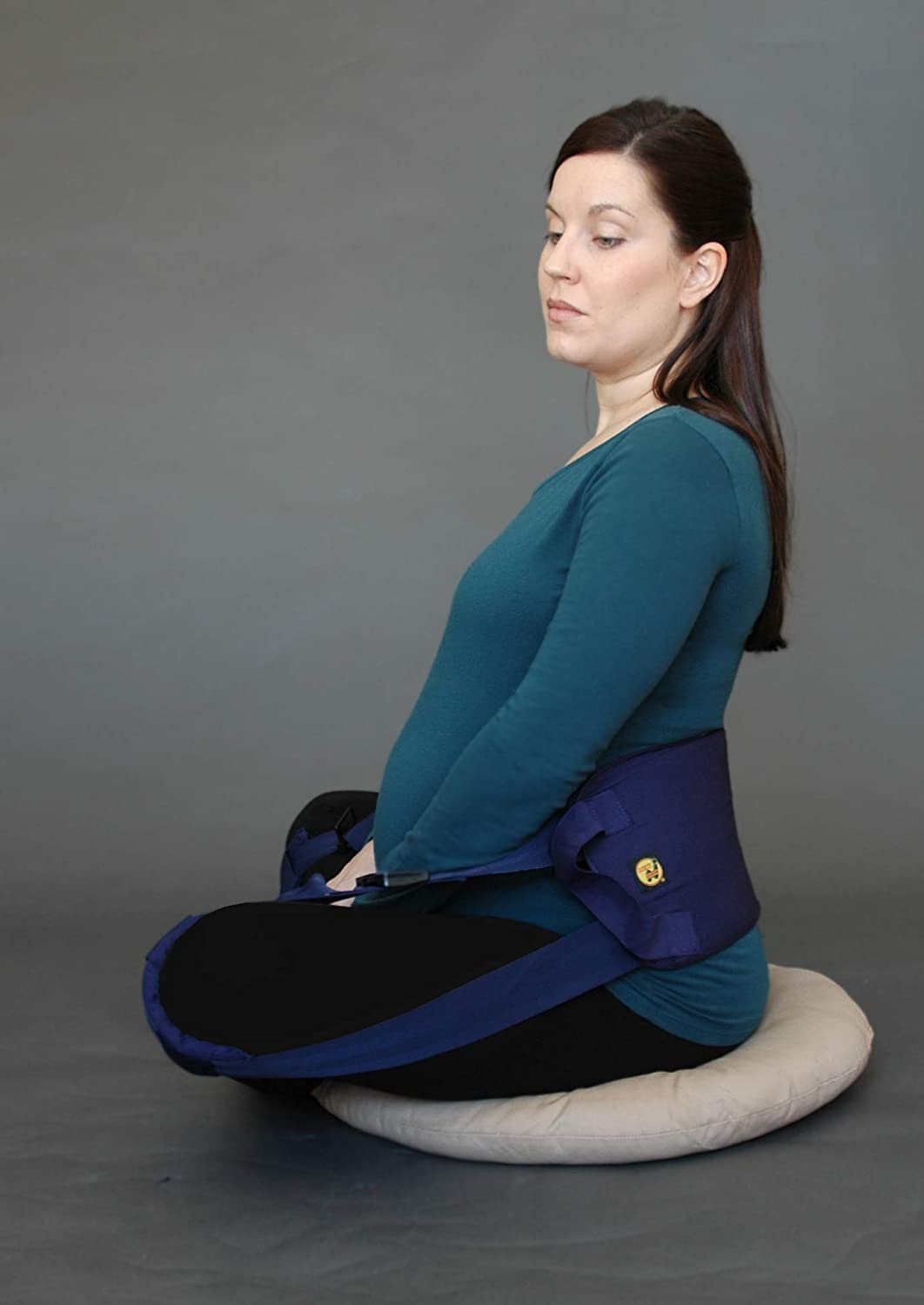 If you belong to one of these groups, give Nada-chair a go and see how you feel after you've figured out your ideal position. You should feel relaxed but your back should be stabilised. Above all, I hope that you'll enjoy wearing it as much as I have done!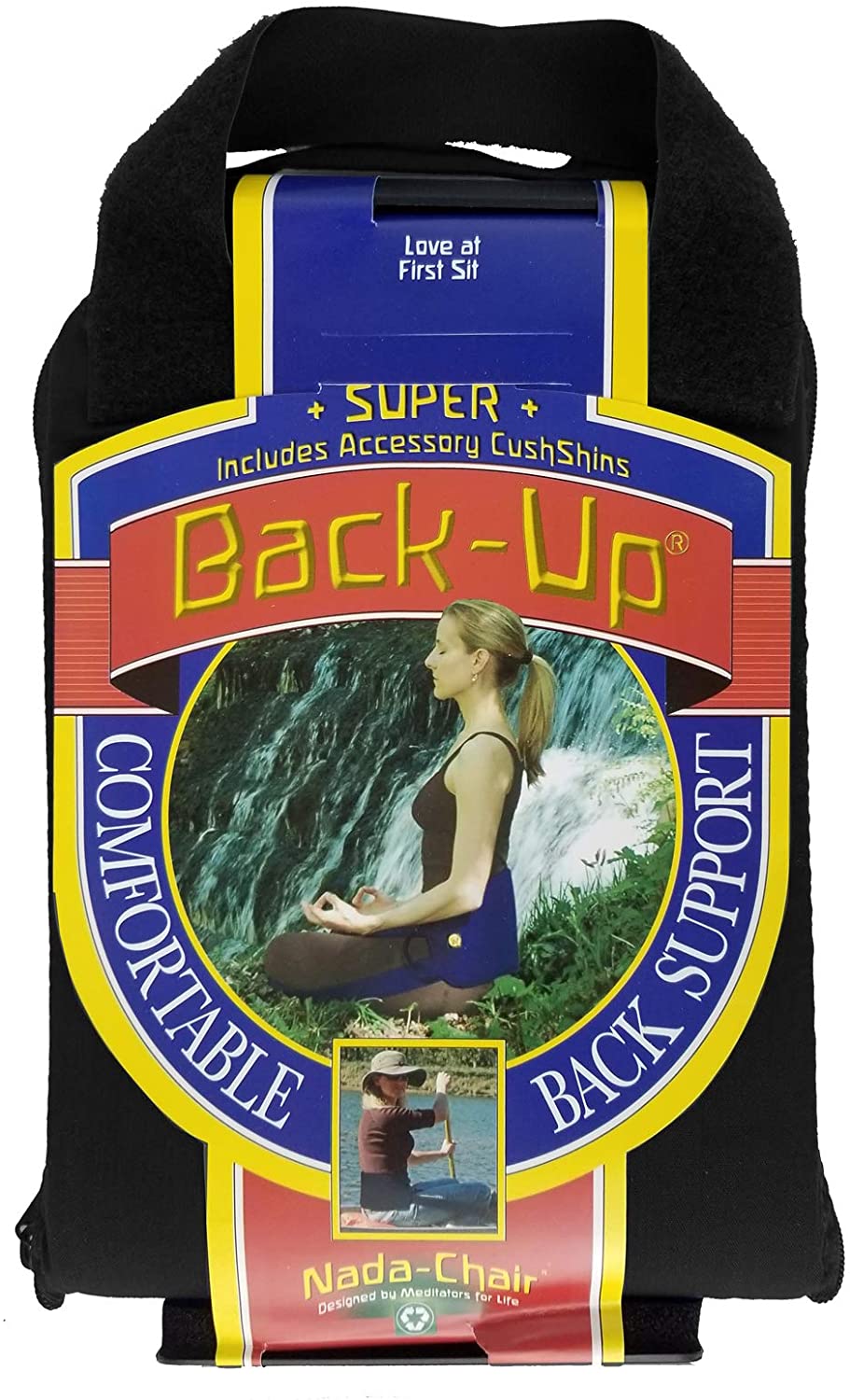 Nada Chair Back-Up
Available at Amazon
Your Opinion
I would love to hear about your thoughts about Nada Chair or similar kind of back support. Feel free to share your thoughts or ask any questions in the comments below and I look forward to replying to you soon.