A Healthy Treat
If you have a sweet tooth like me but like to eat healthily to keep feeling great, this recipe might be just for you. Raw Cacao (not to be confused with cocoa which is processed and often mixed with sugar) well deserves to be considered a superfood: It is one of the highest sources of magnesium in nature, full of antioxidants, calcium, magnesium, zinc, iron, copper and selenium, and flavonoids. Flavonoids improve blood flow to the brain and heart, lower blood pressure, and aid in preventing blood clots.
Small wonder cacao had a divine status in Mayan and Aztec cultures. According to legend, the Aztec ruler Montezuma II drank 50 cups of chocolate a day, and more when he was entertaining a woman.
Dried dates contain iron, calcium, and vitamin A, which is beneficial for maintaining skin health. They are high in fibre, thus very good for digestion.
Almonds are loaded with antioxidants, high in Vitamin E and magnesium. They can aid in lowering blood sugar levels, reduceding blood pressure and lowering cholesterol levels.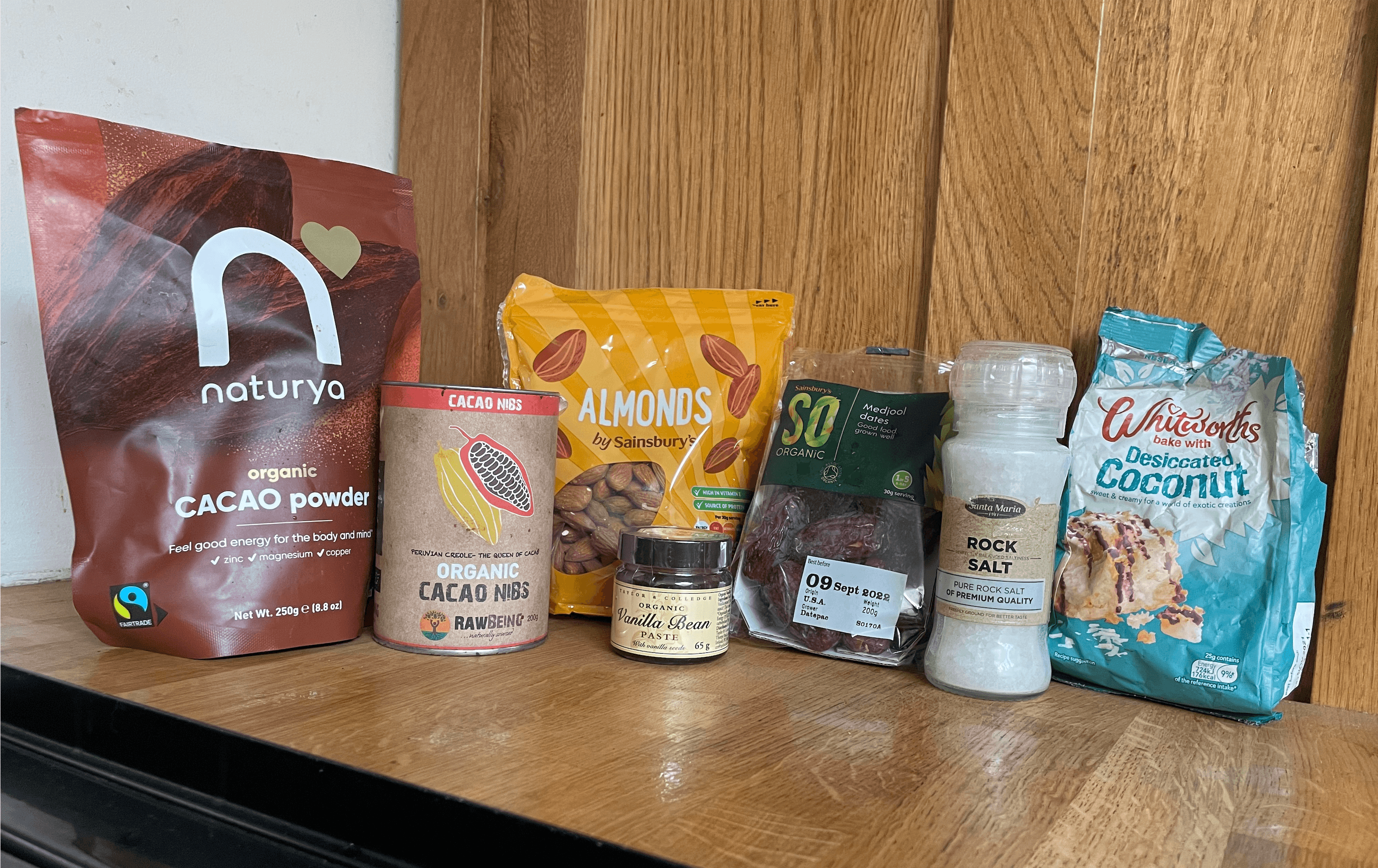 Ingredients:
4 tbsp Cacao powder
400 g Medjool dates
2 tbsp Coconut oil
A handful of desiccated coconut
300 g Almonds
Vanilla extract (vanilla bean paste or liquid vanilla essence)
A handful of Cacao nibs
A pinch of rock (or sea) salt
Note: Feel free to improvise with the amounts and ratios. No need to use a scale. I tend to use an equal amount of Medjool dates and the almonds, about 50:50. But if you'd like the truffles to be more creamy than crunchy, then use a smaller ratio of almonds to dates.
The same goes for the vanilla extract. You don't have to use it at all, but if you fancy a nice shot of penetrating vanilla essence, use a few teaspoons – why not?! The truffles will gain a funkier, 'rum-like' taste.
Method:
1. Place the almonds in the food processor and pulse until crushed (but not to a fine flour..! 😉
2. Take the seeds out of the Medjool dates and place them (the dates..!) in the food processor.
3. Add coconut oil (soft enough or liquid), cacao powder, and a pinch of rock salt, and let the food processor mix everything. (In this photo, I have also added some desiccated coconut, but you can do this later.)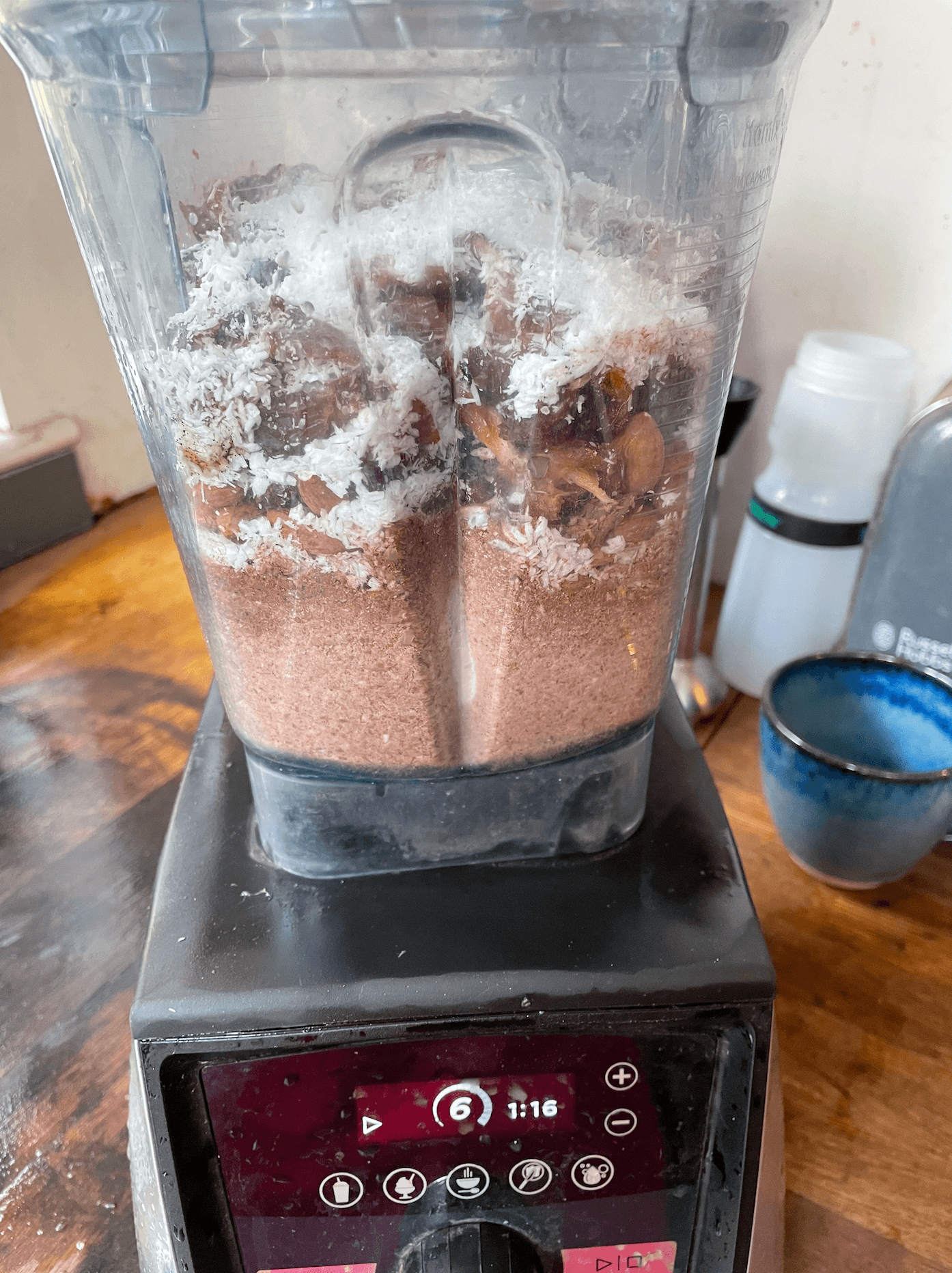 4. Transfer the mixture into a mixing bowl, and add a nice portion of desiccated coconut, unless you have done it previously.
5. Start kneading everything together with your superclean and ring-free hands. (You can also wear food-grade gloves.) Feel free to use your fists to press onto the mixture. Use your own weight to lean into the nutritious mix. Imagine you are giving your favourite person a nice massage. The more mixing, the better taste!
6. The mixture will start getting darker and moister thanks to the coconut oil melting and binding everything together. You can taste a bit of the mixture after all the squeezing and kneading, and decide if you'd like to add more vanilla essence, desiccated coconut, or cacao powder. If you do, make sure you knead everything thoroughly once again.
7. Once the mixture is solid enough so it sticks together, start rolling pieces of it into balls.  If the balls don't hold together well, it means the mixture needs more coconut oil to bind everything together. If this is the case, melt a bit of coconut oil in a small pan and the liquid to the mixture, kneading everything thoroughly until you can feel it's getting sticky and ready to roll.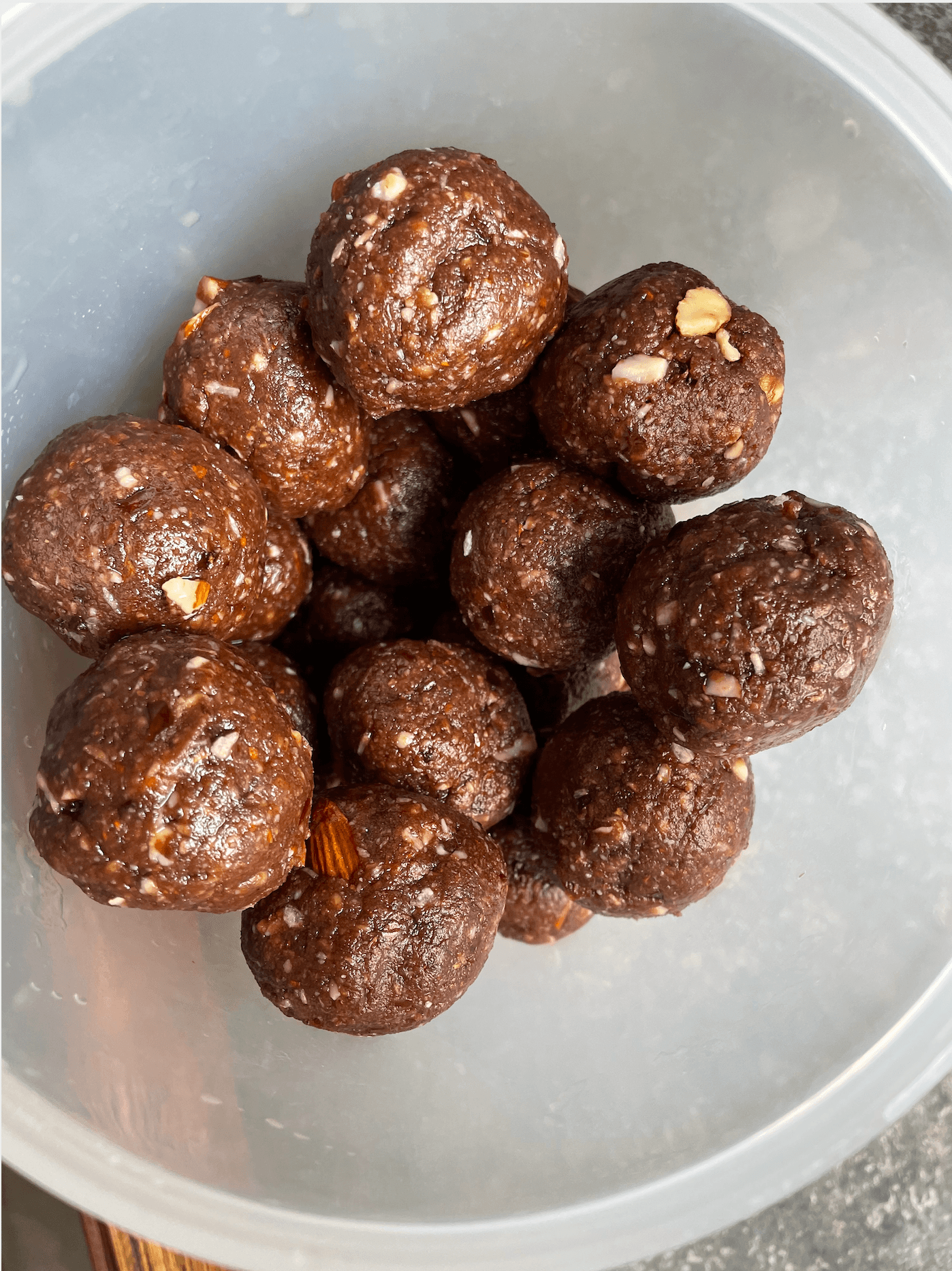 8. Place the balls in the freezer for about 30 – 60 minutes to solidify.
9. Take them out and place them in a container with a lid.
10. Sprinkle some cacao powder over them, close the lid and gently shake or tilt the container, until the balls get nicely coated with the powder and look like high-class truffles!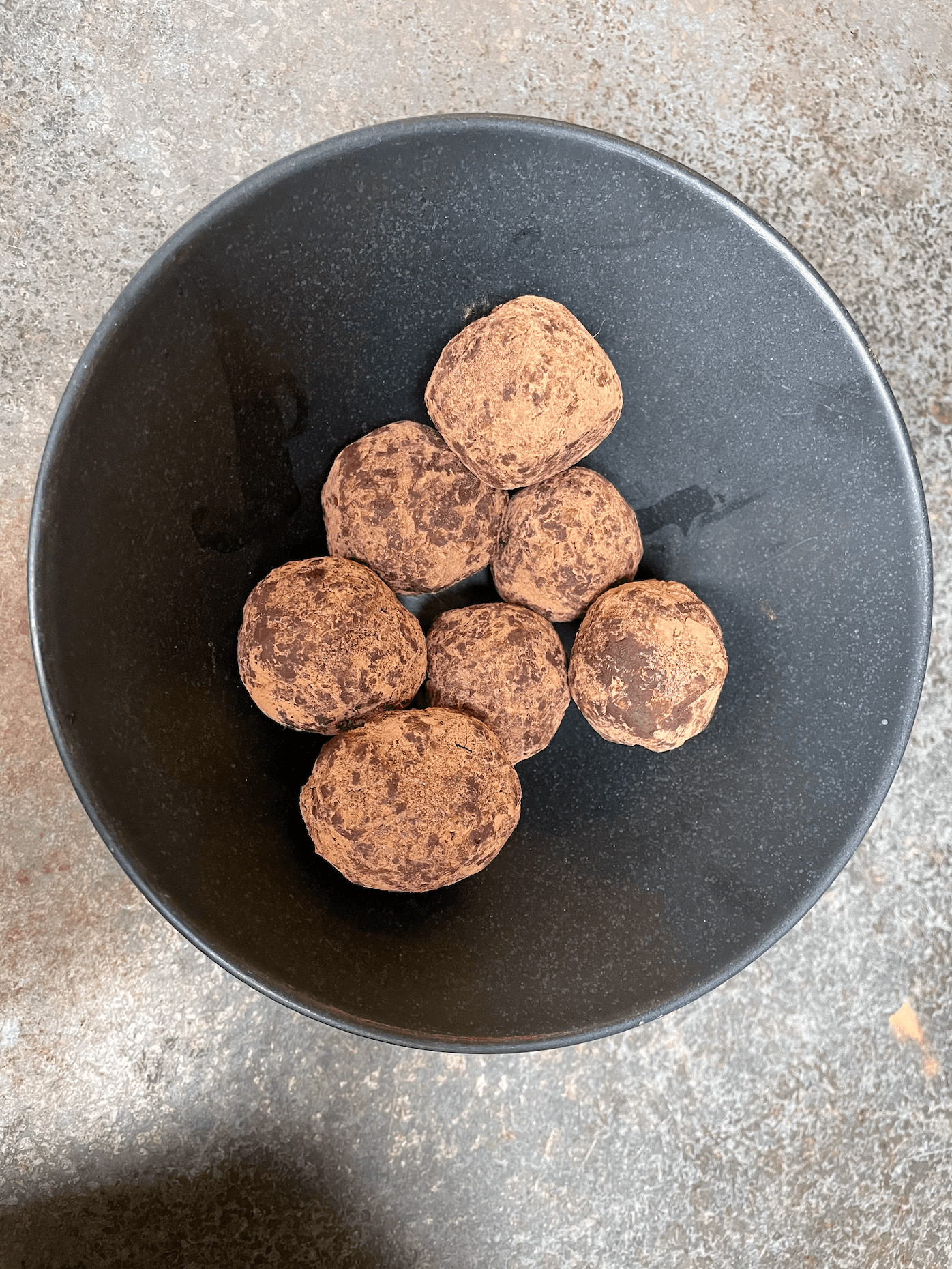 11. Put everything back in the freezer for another hour or so. (For me personally, an hour in this context is an unbearably long time..! 😉
Then you can just keep the truffles in the freezer, or transfer some of them in the fridge.
12. And once they are ready…Just sit back and enjoy the power and vigour of Montezuma II!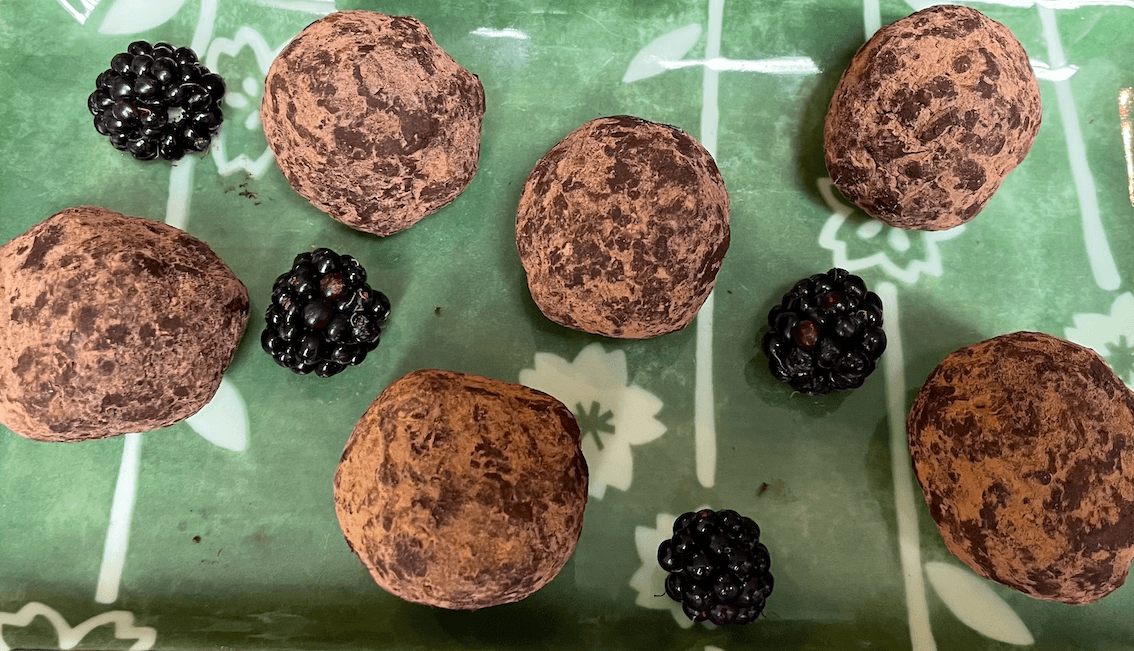 This post is dedicated to Maddie.