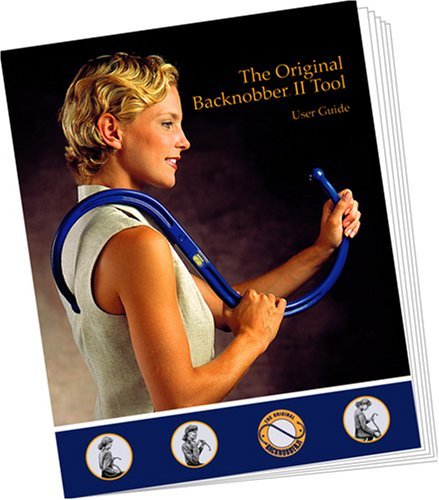 If you're looking for the best back massage tool that doesn't require a power supply, you may enjoy my review of The Original Backnobber II. There was a time I would spend a lot of time on the road and suffered from back pain as a consequence of carrying musical equipment around. Fortunately, a friend had recommended this simple but powerful S-shaped tool that has been in and out of my travel bag since. In this review I'll walk your through the good as well as the less desirable aspects of this handheld massager.
Affiliate Disclosure: As an Amazon Associate I earn from qualifying purchases. If you make a purchase through my links, I will earn a small commission at no extra cost to you. The full disclosure can be accessed here. Thank you for your support!
Product: The Original Backnobber ii
Available from: Amazon
Main Benefits: Pain Relief/Relaxation/Clearing Out Toxins
Price: £42.83
Dimensions: 55.88 x 33.02 x 2.54 cm
Weight: 453.59 Grams
Power Source: Not needed
My Rating: 8.8 out of 10
Overview
The Backnobber II is a popular handheld tool for self-massage, mostly for shoulder and back areas. It is capable of managing muscle pain, as well as clearing toxins out of the body by stimulating neurolymphatic reflex points and encouraging the lymph flow.
The tool is made of a strong and highly durable polymer-fiberglass composite. The ergonomic S-shape of the massager allows you to easily reach your back, shoulders, neck, and other areas to massage and manage muscle pain.
It has a special locking mechanism in the middle, so you can take it apart easily. This practical feature of splitting the device in two (by pressing the button in the middle) makes it easy to carry around or store at home.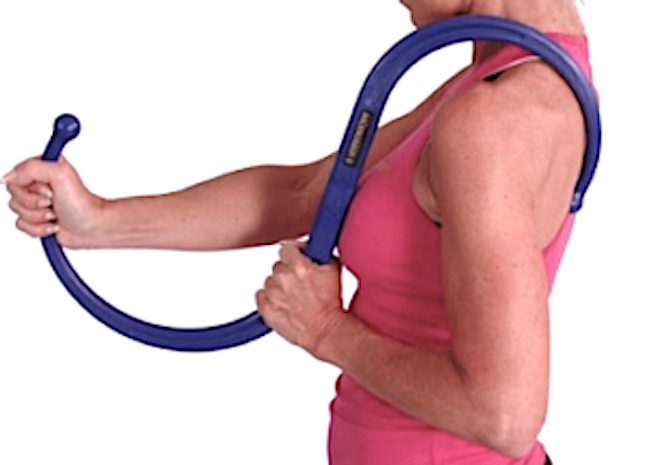 How to Use the Backnobber
The Backnobber is best used the following way:
Hook one of its curves over your shoulder or under your arm. You then use its leverage to apply firm, deep pressure to the points on your muscles that need deep treatment.
I personally find it very easy to manipulate. I mainly use it to treat the muscles of my back, shoulders, or the sides of my neck. Most frequently, I hook the S-shaped Backnobber over my shoulder and massage the areas of my upper back.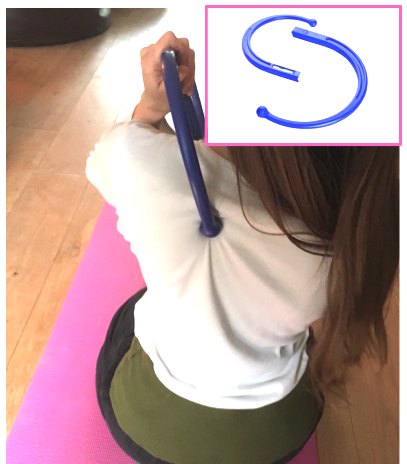 It's quite incredible how much healthy pressure can be achieved by gentle pushing against the device. The type of pressure that would make a massage therapist's knuckles sore can be done by you with almost zero effort.
Holding the Backnobber Horizontally
As I've just mentioned, you can reach your back muscles from your side by holding the Backnobber horizontally. You can start at the top and then continue all the way down your spine. Do this from both sides.
You will be pressing a large number of important acupressure points that affect various systems in your body and clear out toxins by making the lymph flow more easily.
Massaging Lower Back
To reach my lower back, I hold the Backnobber horizontally so it can reach the sides of my back. Again, I use the device as leverage to apply pressure to the points of my choice.
Lying Down
My favourite way of using the Backnobber is lying down on my back and sliding the 'snake' under my back. Then I just gently push down the top part and can feel a nice deep pressure. It almost feels as if the device is working on its own.
This is one of the most effective ways to clear toxins from your body and release stale energy. You'll notice your mood lifting up as well.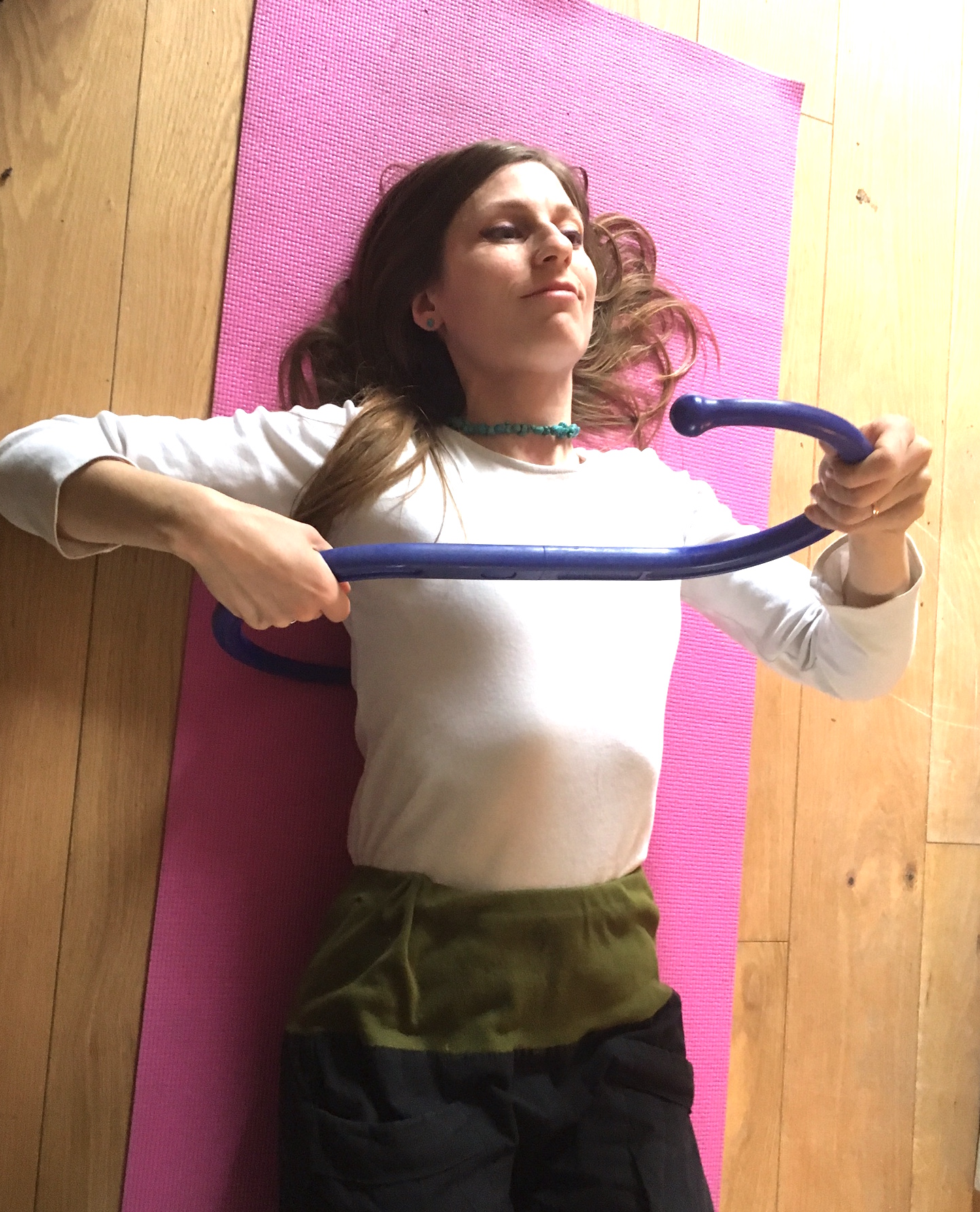 Which End to Use?
The Backnobber has two ball-shaped ends of slightly different sizes. I tend to use the smaller end for hanging over my shoulder, and the larger end for massaging the muscles of my lower back (I reach these points from the side).
Watch the Instructional Video
You can watch the manufacturer's video explaining how the device works and what the benefits are. Just watch out for the skeleton in the background..!
When Do I Use it Most?
The Backnobber has been helping me relax my muscles in various situations. I use it after long drives, carrying heavy luggage, vacuuming the house, gardening, or long sitting sessions. As soon as my back muscles get a bit stiff and achy, I reach for the Backnobber and target the affected area.
Get Creative
You can get quite creative with the Backnobber – for example, you can even use it for a foot massage. I've even read some reviews which made me gasp in disbelief over people's 'overcreativity' with using the Backnobber – I don't think it's necessary to get into further details here..!
Self-administered Spinal Flush
The Backnobber is particularly great for a self-administered Spinal Flush technique. It's a technique used in energy medicine and it's incredibly relaxing and rejuvenating.
Find out more in my article Two Simple Techniques for Deep Relaxation where I describe the procedure, and where you can also watch Donna Eden showing the technique in a video called  How to Connect with Your Partner Using Energy medicine. The Spinal Flush is really worth learning, and you can either use your hands or the Backnobber device.
PROS:
The Backnobber ii is capable of a powerful and effective massage without the need of a power supply.
It's easy to hold, and not too heavy.
It's most convenient for travel, because it splits into two parts and doesn't take much space in your bag.
With your Backnobber, you'll also get an illustrated user guide full of stretching and strengthening exercises.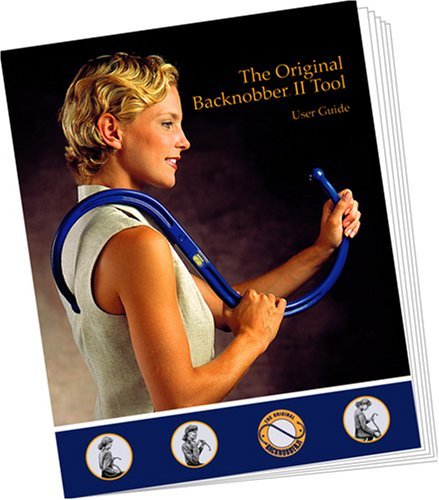 CONS:
The Backnobber may not be every effective if you don't know how to use it – for example, if you don't place it on the required areas properly, or if you don't apply enough pressure.
Some users have found it unstable and wobbly, with the locking mechanism not working properly.
You can't fully relax while using it because you have to operate it and apply some pressure/
Note: In order to get the best out of the Backnobber, I highly recommend watching the instruction video and read the user manual that comes with the device.
Reviews from Other Customers
Let's have a look at some reviews from Amazon customers. I've selected a variety of good and bad ones, and I'll comment on each one. It's always helpful to hear different opinions of different customers because you make your own decision. So here we go, 12 different reviews from the best to the worst:
My opinion: The Backnobber is indeed a highly effective device for trigger point relief. I'm glad to see that a rehab nurse has endorsed it.
My opinion: What a lovely outcome for this man. It's great to hear that such a simple device can save someone a trip to a chiropractor or a massage therapist! 
My opinion: As Sarah K. points out, the Backnobber allows you to reach places on your back you would find it hard to get to otherwise. This is thanks to its S-shape.  You can detach it very easily by splitting into two parts. One of the other reviewers were complaining that this feature makes it unsteady and wobbly, but I don't find that the case. The device also comes with quite a detailed booklet full of useful tips, so you can make the best out of your Backnobber.

My opinion: This reviewer mentions that applying the pressure hurts a bit, which is what it is supposed to do in order for it to be effective. And in my experience., it is capable of loosening the stiff muscles quite quickly.
My opinion: The two different sizes of the ends of the Backnobber is a feature I particularly like; it makes the device quite versatile. Like this man, I have also tried lying on tennis balls in the past but rather than finding it effective, I would end up frustrated whenever the balls would roll away. The Backnobber eliminates this problem completely.

My opinion: The Backnobbers probably come in many different batches. The one I have feels really sturdy and does not wiggle. If you do get one that feels loose, return in at once and ask for a replacement.

My opinion: I agree about the Backnobber being great for targeting specific pressure points or muscle knots, and that it is not to be understood as a substitute for the type of massage where you can fully relax, especially when being massaged by someone else or by a massage chair.

My opinion: It's not nice reading about this unfortunate man near-accident. As he is a strong man and seemingly applies all his strength while using this device, it is possible that the device cannot withstand so much pressure. I would definitely recommend this man to get a hand-held percussion massager instead!
My opinion: This should definitely not happen with the Backnobber. I have had mine for years and it always kept holding together very well, and never snapped.  It is a pity that in this case it passed the return window and the customer could not claim his/her money back. I would always test the device excessively in the first few days after receiving it, to ensure that I got a quality product and not an item from a bad batch.

My opinion: There are many types and causes of muscle pain. Sometimes the Backnobber can be effective, other times not. As with everything, it is a matter of trial and error, and perhaps the Backnoebber is not the best tool for this person. It's also possible that the reviewer has not been persistent enough or did not use the correct angle. He/she mentions that a percussion massager, which is probably better in this case. I have one and can't praise it enough – you can check my review here.
My opinion: This is interesting because I've never found it to be 'slippery'. I reckon it also depends on what type of clothing you wear while using it. If you have something heavily synthetic on, it is likely to be sliding about more than if you wear cotton or linen, or materials that have a certain amount of resistance.
My opinion: Erm…sorry to hear that! 
Conclusion
As seen from the reviews, the Backnobber, however popular, is not a tool for everyone. If you don't find the device suitable for you and would prefer something that works on its own, then get a handheld powered device, such as a percussion massager. You can read my review of one of these, called Hangsun Percussion Massager, here.
As a frequent user of the Backnobber ii, I would personally recommend it to anyone who'd like to relax their back, shoulder or neck muscles, while being ok with having to hold it and manipulate it. After all, the technique with lying on one's back and using it as leverage requires almost zero effprt and is highly effective.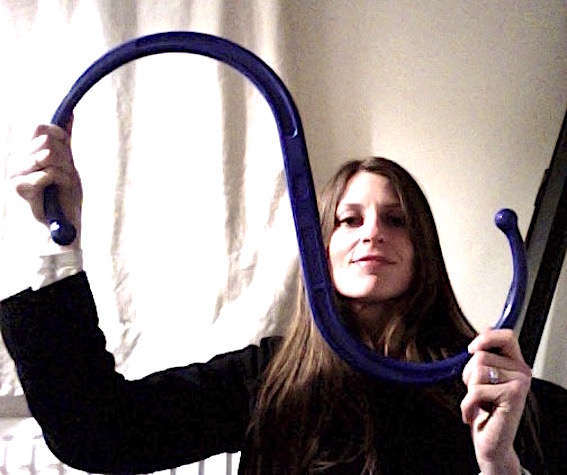 The Original Backnobber ii
Available at Amazon
Share Your Thoughts
If you like the features of The Original Backnobber II, and think you may find it useful, try it out and let me know in the comments under this post how it's working for you and what your favourite techniques are.
Other posts you may like: