Product: ZivaOnline – a 15 days' online training
Price: $399
Guarantee: 30-day Money-back Guarantee
My Rating: 8.9 out of 10
It goes without saying that meditation has become a highly popular practice. We hear about Google CEOs daily meditation practice to increase their productivity, stressed-out entrepreneurs trying to detox their system, and people from all walks of life who meditate to find inner peace. Whatever the reason for meditating is, it is always recommended to find an experienced teacher who can guide us through our first steps.
This is a review of Ziva Online – an online mediation course by Emily Fletcher, the author of the best-selling Stress Less Accomplish More who has developed an online meditation course that lasts 15 days.
Having first read the highly informative and enjoyable book, I enrolled in Emily's course in January 2020 and benefited from her tachings on many levels. Taking this course and following the instructions step by step has had a great effect on my health and wellbeing, and I will be talking about the specific benefits in this review.
There are some aspects you need to consider before taking this course and I will be listing both pros and cons of this course, so you can get an idea if the course is for you or not.
Affiliate Disclosure: This page contains affiliate links. This means that if you make a purchase through my links, I will earn a small commission at no extra cost to you. The full disclosure can be accessed here. Thank you for your support!
The Course Content
Ziva Online takes 15 days to complete. You will receive an instructional video each day which you have to complete in order to unlock the next day's video. You cannot unlock the next day's video in one day. I like this approach because it supports proper learning. You will concentrate a lot at just one video a day, which means that in the long run you will learn more and retain more information. You will also look forward to the next day's video.
The videos are very engaging and full of interesting information. Emily Fletcher is clearly an expert with plenty of experience. She studied meditation and meditation teaching in India Her instructor course lasted three years, which is very clear in her teaching. I felt I was in good hands throughout the whole course.
Upon completion of the course, you'll receive a certificate, with which you will be able to take Emily's live training in her studio in New York. (The live training now requires the completion of the online course).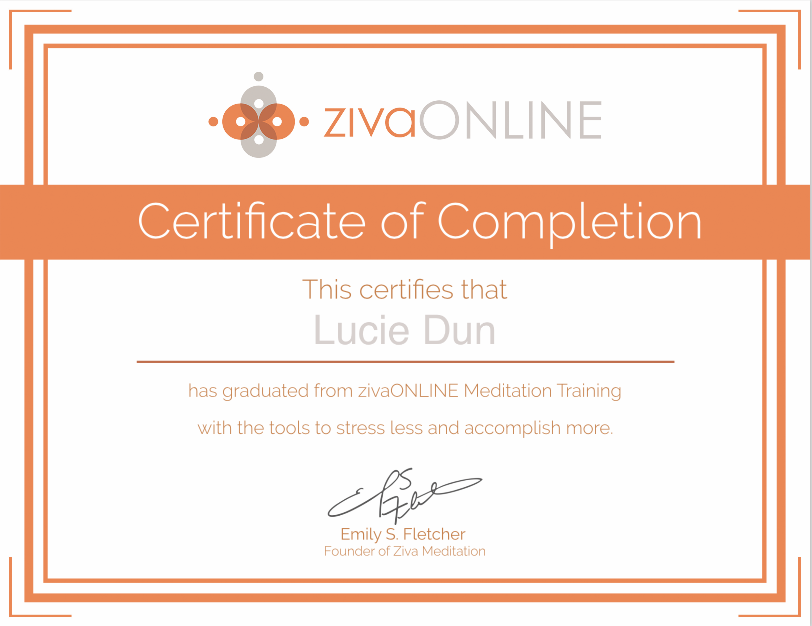 What makes Ziva Online different from other meditation courses is the inclusion of threedifferent techniques: Mindfulness, Meditation, and Manifesting. Emily Fletcher clearly explains the difference between mindfulness and manifesting and guides the learner through both.
The course finishes with manifesting, which is getting clear on what we want in life and making our dreams become reality. Emily teaches specific visualisation techniques to achieve our goals.
The 15 Days' Course  Outline:
DAY 1 – Beginner's Mind
DAY 2 – Come to Your Senses
DAY 3 – Patience is a VirtueDAY 4 – First Day of Meditation Training
DAY 4 – First Day of Meditation Training
DAY 5 – The 5 Most Common Things During Meditation
DAY 6 – Alarms, interruptions, and rules – Oh My!
DAY 7 – Make a Promise to Yourself…and Keep it
DAY 8 – The Bubble Diagram
DAY 9 – The Importance of Twice a Day
DAY 10 – Creation, Maintenance, & Destruction
DAY 11 – Higher States of Consciousness
DAY 12 – How to Make Ziva Non-Negotiable
DAY 13 – Thoughts Become Things (Manifesting )
DAY 14 – The 3 Keys to Manifesting
DAY 15 – YOU DID IT!
Pros:
Learning to meditate regularly leads to clear results, such as:
Better Sleep
Better immunity – fewer colds
Better mood, less reactivity
Improved productivity
I personally credit the course for impacting my life in the following ways:
Deeper and More Restful Sleep 
Amazingly, my need of 9 hours of sleep decreased to 7, and I no longer experience the crashed of energy in the afternoons
More Energy and Focus
I have noticed that since I've started meditating regularly that I am able to read with more concentration.
Increased Productivity
Thanks to recharging my body's energy with meditating twice a day, I get many more tasks accomplished in the day. My days also feel longer thanks to sleeping less (but still feeling rested). I am also experiencing more 'flow' states when working.
Being Less Reactive or Confrontational
that when I get into a tense situation that would normally lead to confrontation, I am able to stay calmer and more grounded, and my need to react defensively is minimal.
Feeling More Connected to Others
Mediation has the amazing ability to release the so-called bliss chemicals into your brain. Amongst these chemicals are oxytocin (the bonding hormone) and anandamide (also dubbed 'the bliss molecule).
If your body is flooded with these feel-good chemicals, it will be natural to feel a loving connection with others. You will also be able to forgive more easily! Again, I am talking about my own experience. This aspect of the biochemical reward of frequent meditation is truly amazing and can save and heal many relationships!
A Huge Decrease in

 N

egative Thought-Patterns
To my astonishment, I have experienced a really noticeable drop in the involuntary, automatic negative thoughts and inner critical commentaries (of ourselves and other people) that used to bring me down a lot. This is one of the greatest benefits of having taken the course.
Reduced Need

 for Caffeine or Alcohol
Don't take me wrong, I still really like both! However, I've noticed that their effect on my body is much stronger since I started meditating, so I need a considerably smaller quantity of both. I'm also convinced that the fact that my sleep is much better now can be attributed to my natural reduction of caffeine and alcohol.
I Stopped Biting My Nails
I'm happy to say that my annoying habit of biting my nails has stopped! I used to bite my nails whenever I felt nervous and on edge, often after drinking coffee.
If you'd like to read more in-depth about all the 'perks' of mediation, check my post on the physical and psychological benefits of meditation!
Cons:
This course is expensive. For many people, $399 is a lot of money, and the price may put them of and prompt them to search for free Youtube meditation videos instead. Although I am very happy to have invested this amount into improving multiple aspects of my life, I still have to point this out. It's a pity that this price aspect may deter quite a few people from taking the course.
What I also dislike is the 6-month limit of access to the course content, the private Facebook group, and the live calls with Emily. You'll only get 6 months of access, after which you can upgrade, but personally, I just don't like that feature. I have done other courses, such as the Mindvalley course Eden Energy Medicine and Jim's Kwik Superbrain and SuperReading. With these, I have lifetime access to both the course content and all the live video calls and private Facebook groups. This generous approach is exactly why I have recommended many of my friends to join their programs.
I do understand that Emily Fletcher's aim as a professional meditation teacher is to help us become independent meditators who don't have to repeatedly come back to the course material and follow her along with the meditations, but I still think it would be nice to be able to revisit the course (and have access to the Facebook group and the encouraging live calls) without having to pay for it repeatedly every 6 months.
Having said all that, you can try the whole course for 30 days with a money-back guarantee which I think is pretty great, because in the space of 30 days you will you can learn to meditate and start experiencing many of the physical and psychological benefits. The course is only 15 days so you will have plenty of time to decide whether the training was worth it or whether you prefer to cancel the payment.
Conclusion:
I've been pretty frank in this review in terms of my opinion about the price and the 6-month access limit. However, all this can't change the fact that taking the Ziva Online course has been one of the best investments in my life – exactly as what other reviews say about her course (which you can read here.)
With the overwhelming amount of information on the internet, it is difficult to choose the right teacher or a course. Often we just download a meditation app and stop using it a few days later, with no results. The fact is – Ziva Mediation works, and it may even surprise you how well it works. If you want to become more productive, have much more done, sleep better and in many cases need fewer hours to feel fully rested, feel calmer and more stable emotionally, I recommend you give Ziva Online a try.